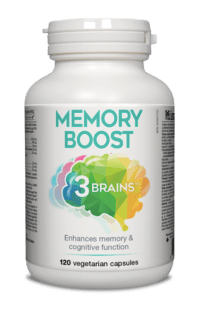 3 Brains Memory Boost
3 Brains Memory Boost
Regular price

Sale price

$31.99
3 Brains Memory Boost
120 vegetarian capsules (SKU 3051)
Enhances memory and cognitive function
Promotes mental sharpness and concentration
Supports healthy blood flow and peripheral circulation to the brain
Provides key antioxidants to protect the brain from free radical damage

Health Memory Boost is a natural supplement that promotes mental sharpness and concentration. Memory Boost provides key antioxidants to protect the brain from free radical damage. Combining 7 brain-boosting nutrients, extracts, and antioxidants that work together Memory Boost supports healthy blood flow and peripheral circulation to the brain. Memory Boost is perfect for anyone who is looking to increase mental stamina and cognitive function.

Ingredients 

Acetyl-L-carnitine (N-acetyl-L-carnitine hydrochloride) - 

100 mg
N-acetyl-L-cysteine - 

50 mg
Alpha-lipoic acid -

20 mg
Ginkgo biloba extract 50:1 (leaf) (24% flavonoid glycosides, 6% terpene lactones) - 

16.5 mg
Phosphatidylserine (Helianthus annuus) (seed)(Provided by 33 mg non-GMO sunflower lecithin complex) Also contains naturally occurring phosphatidylcholine (PC) and phosphatidylethanolamine (PE) - 

2.5 mg
Vinpocetine - 

2.5 mg
Huperzia serrata extract (whole) - 

2.5 mcg
Huperzine A - 25mg
Non-Medicinal Ingredients: Microcrystalline cellulose, vegetable capsule (carbonate gum [cellulose], purified water), silica, vegetable grade magnesium stearate(lubricant), stearic acid.
3 Brains, creators of emotion balancing, Cloud Nine natural supplement, and best selling mood formula Daily Brain, now brings to you 3 Brains' Stress Less cognitive support supplements as well as the Restful Sleep insomnia support. 3 Brains has your head, heart, and digestive health needs covered.
SOURCES
Isolated from Periwinkle.

APPLICATIONS
Poor memory and concentration, dementia, vascular dementia, hearing impairment, macular degeneration, brain health

DOSAGE
10-45mg daily with food.


Couldn't load pickup availability