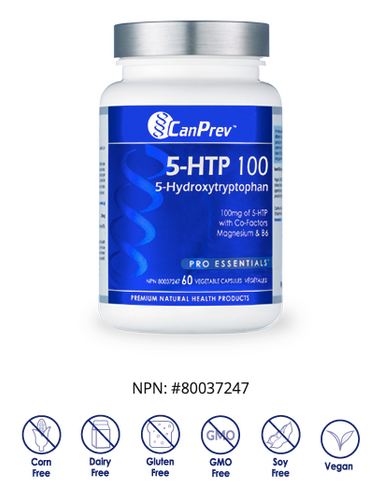 CanPrev 5-HTP 100
CanPrev 5-HTP 100
Regular price

Sale price

$25.99
5-HTP 100
NPN: #80037247
100mg of 5-HTP, derived naturally from the African plant Grifonia
Enhanced with B6 and magnesium to improve the body's conversion and utilization of 5-HTP
Sleeping well and feeling good are two of life's necessities that keep us healthy and happy. But sometimes we need a little help maintaining both, and if we can get relief from a single source, all the better. CanPrev's 5-HTP 100 is formulated from three key ingredients that work synergistically to promote restful sleep and a healthy mood. 5-HTP 100 also works to help relieve symptoms of fibromyalgia (pain, anxiety, morning stiffness, and fatigue) and reduce the severity and duration of migraine and tension headaches when taken as a preventative. Can one product do all that? Absolutely.
5-hydroxytryptophan (5-HTP) is a compound made in the body from the amino acid, tryptophan, that you get from eating protein-rich foods. Once in the 5-HTP state, it goes on to form serotonin, the neurotransmitter that helps regulate mood and behavior and then is further metabolized into melatonin. Yes, you can depend on tryptophan as a precursor to the development of serotonin, (think protein-rich hot chocolate before bed) but research has shown 5-HTP to be much more efficient at delivering the feel-good hormone to the brain.
Serotonin guided by tryptophan on its own is not able to break through the blood-brain barrier (your brain's defense system for keeping out foreign substances) but 5-HTP can. It acts as the password for serotonin to get past the security gates and flood the brain with its mood-lifting and sleep-inducing properties.
CanPrev's 5-HTP 100 is sourced from the African plant Griffonia simplicifolia and enhanced with Vitamin B6 and Magnesium which are important cofactors to help the body convert and utilize 5-HTP.
Try CanPrev's 5-HTP 100 and unlock the door to feeling better today!
Ingredients
Each capsule contains
| | |
| --- | --- |
| 5-HTP (5-Hydroxy-L-tryptophan) | 100mg |
| Magnesium (magnesium bisglycinate) | 60mg |
| Vitamin B6 (pyridoxine HCl) | 33.3mg |
Non-Medicinal Ingredients
Vegetable-grade magnesium stearate, vegetable capsule, microcrystalline cellulose.
Recommended Use
Helps to promote healthy mood balance, relieve symptoms of fibromyalgia, and reduce the severity and duration of migraine headaches when taken as a prophylactic. Can be taken as a sleep aid.
Directions
Adults - Take one (1) capsule three (3) times per day with food or as directed by a healthcare practitioner. For use as a sleep aid, take one (1) or two (2) capsules 45 minutes before bedtime or as directed by a healthcare practitioner. To minimize the risk of gastrointestinal side effects, start dosing at one (1) capsule, one (1) to two (2) times per day, and slowly increase to the effective dose over a 2-week period.
Cautions & Warnings
As with any natural health product, you should consult a healthcare practitioner on the use of this product, especially if you are taking medication including carbidopa or drugs/supplements with serotonergic activity. These may include, but are not limited to, L-tryptophan, S-adenosylmethionine (SAMe), St. John's wort, antidepressants, painkillers, anti-nausea, and anti-migraine medications, and over-the-counter cough and cold medications containing dextromethorphan. Consult a healthcare practitioner prior to use if you are pregnant or breastfeeding. Consult a healthcare practitioner if symptoms persist or worsen or if sleeplessness persists continuously for more than 3 weeks. Discontinue use and consult a healthcare practitioner if you show signs of weakness, oral ulcers, skin changes, or abdominal pain accompanied by severe muscle pain. Do not use if seal is broken. Keep out of reach of children.
Known Adverse Reactions
Diarrhea, nausea, vomiting, abdominal pain, or drowsiness may occur. Exercise caution if operating heavy machinery, driving a motor vehicle, or involved in activities requiring mental alertness.
Contraindications
Do not use if you have scleroderma.
Couldn't load pickup availability