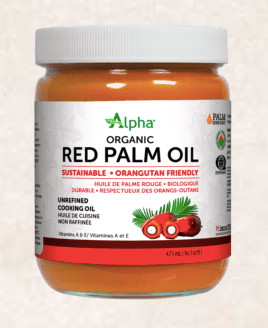 Alpha Organic Red Palm Oil
Alpha Organic Red Palm Oil
Regular price

Sale price

$9.99
Alpha Organic Red Palm Oil
Nutritious cooking oil
High in vitamins A and E
Certified Palm Done Right™
Orangutan friendly, sustainably made in Ecuador
Unrefined and cold filtered
Available in 475ml


Alpha Health Products Ltd. has the same concerns that our customers have about how and where palm oil is sourced and produced.

Our Organic Red Palm Oil is thoughtfully sourced from Ecuador, made on small farms from fresh ripe palm fruit (never the palm kernel), and fairly traded in a sustainable way.

The best part? Ecuador doesn't have orangutans, and we bring this beautiful oil to market with no displacement of people or animals.

Alpha Organic Red Palm Oil is certified Palm Done Right™. This international campaign aims to improve the palm oil industry by ensuring the fruit is sustainably grown and harvested, and the oil is produced in a way that positively supports the environment and ecosystem.


Main Ingredients

100% Organic Red Palm Oil from fresh-pressed red palm fruit.

Made in Ecuador.

Suggested Use

Alpha Organic Red Palm Oil is a nutrient-rich, unrefined oil that can be used for medium-high heat cooking or simply by the spoonful for added nutrition to your diet. The oil's bright orange hue comes from the naturally high levels of beta-carotene in the palm fruit, making it a wonderful source of antioxidants, rich in vitamins A and E, and a source of phytonutrients.


Try Alpha Organic Red Palm Oil for:

Baking
Cooking
Frying
Body care
Skin moisturizer
A vegan alternative to butter

Alpha Organic Red Palm Oil can be used for medium-high heat cooking, having a smoke point of 218°C (425°F). With its mild taste, it can easily replace butter and other oils in recipes. Does not require refrigeration.
Couldn't load pickup availability