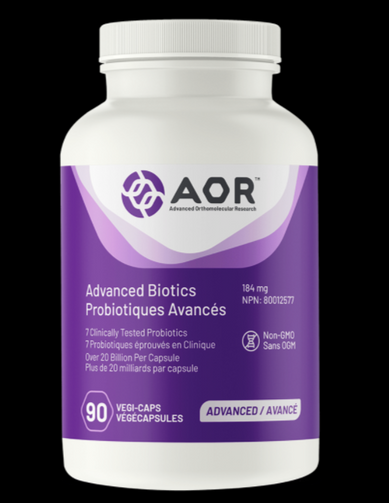 AOR Advanced Biotics
AOR Advanced Biotics
Regular price

Sale price

$56.99
AOR Advanced Biotics
Seven clinically tested probiotics
Promotes balanced intestinal microflora
Enhances healthy digestion and immunity
Reduces inflammation
Contains seven probiotics clinically studied in humans
Supports healthy cholesterol levels
Advanced Biotics delivers seven probiotic strains which have been used clinically for over 50 years. Streptococcus thermophiles, one of the strains in this formula, absorbs cholesterol which lowers total cholesterol levels. Bifidobacterium longum balances the immune system to help manage allergies and also helps to prevent DNA damage, thereby reducing the risk of cancer. The other strains found in Advanced Biotics improve digestion, reduce inflammation and block harmful bacteria from colonizing the gastrointestinal tract and the genitourinary system.
Those who have taken antibiotics, people who suffer from various infections of the digestive tract, those with intestinal issues, or those looking to boost their immunity can benefit from Advanced Biotics.
AOR Advantage
AOR's Advanced Biotics delivers seven unique and effective probiotic strains that have been used clinically for over 50 years to address a variety of health concerns outlined above.
Discussion
AOR's Advanced Biotics formula contains a blend of seven clinically tested probiotics that promote favourable gut flora and support gastrointestinal health.
Adult Dosage
Take one capsule one to four times a day and at least two to three hours before or after taking antibiotics.
Guarantees
AOR™ guarantees that all ingredients have been declared on the label. Contains no wheat, nuts, peanuts, sesame seeds, sulphites, mustard, or eggs.
Cautions
Consult a health care practitioner prior to use if you have a fever, vomiting, bloody diarrhea, or severe abdominal pain. Discontinue use and consult a health care practitioner if symptoms of digestive upset (e.g. diarrhea) occur, worsen, or persist beyond 3 days. Do not use if you have an immune-compromised condition (e.g. AIDS, lymphoma, patients undergoing long-term corticosteroid treatment). This product has come into contact with gluten, corn, soy, dairy, and fish; do not use if you have such allergies.
Main Applications
Allergies
Antibiotic related diarrhea
Atopic dermatitis
Autoimmune diseases
Diarrhea
Irritable bowel syndrome
Inflammatory bowel disease
Yeast infection
Disclaimer
The information and product descriptions appearing on this website are for information purposes only and are not intended to provide or replace medical advice to individuals from a qualified health care professional. Consult with your physician if you have any health concerns, and before initiating any new diet, exercise, supplement, or other lifestyle changes.
Couldn't load pickup availability