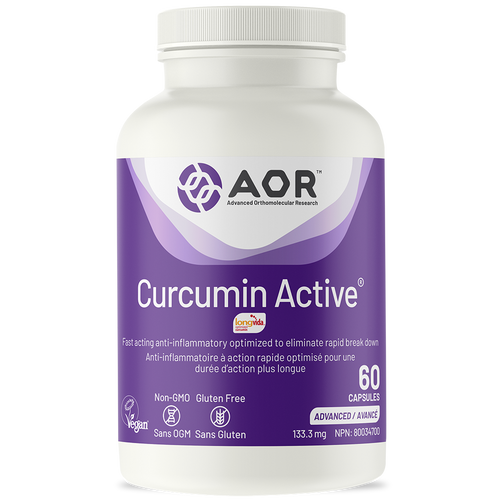 AOR Curcumin Active™
AOR Curcumin Active™
Regular price

Sale price

$69.99
AOR Curcumin Active™
Fast-acting relief for exercise-induced inflammation
High-dose Longvida-optimized curcumin from turmeric
Free from rapid breakdown by the body
Absorbable, bioavailable and effective
Relieves joint pain from exercise or inflammation
Increases mobility
Vegan capsules
Curcumin Active is a high dose of fast-acting Longvida-optimized curcumin, effective in easing inflammation from sports or activity-related injuries to joints or muscles. It works quickly to help relieve symptoms that stem from inflammation such as arthritis and chronic pain to help you get back to doing the activities you love.  Longvida-optimized curcumin was specially formulated to address issues with standard curcumin products including low bioavailability, poor absorption and rapid breakdown. Although bioavailability and absorption help determine effectiveness, the key to its success lies with the capacity of Curcumin Active to remain free, unbound and in circulation in the body. Particles are reduced to a nano-particle size, then coated in lipids to ensure the free unbound curcumin reaches the tissues.
Curcumin is also known to help reduce gastrointestinal inflammation, promote healthy cell growth, and provide anti-microbial, anti-inflammatory, wound-healing properties. It also supports liver and gallbladder function, cardiovascular health and much more. This formula provides a high dose in a convenient vegan friendly capsule for fast and sustainable relief.
AOR Advantage
AOR was the first to introduce Longvida® curcumin to Canada in 2011. Although bioavailability and absorption help determine curcumin's effectiveness, the key lies within its ability to remain free (unbound) in circulation and not rapidly broken down by the liver. In this free form, curcumin can enter the blood stream where it remains stable, concentrated, and effective for up to 24 hours. Studies have shown curcumin is as effective as various common NSAIDs (non-steroidal anti-inflammatory drugs) in osteoarthritis sufferers, though much safer.
NPN
Discussion
Curcumin Active™ is a high dose of the most absorbable optimized Curcuma longa formula that is free from rapid breakdown. It is traditionally used in herbal medicine as a powerful anti-inflammatory to help relieve severe joint pain and chronic inflammation.
Guarantees
AOR™ guarantees that all ingredients have been declared on the label. Contains no wheat, gluten, nuts, peanuts, sesame seeds, sulphites, mustard, dairy, eggs, fish, shellfish or any animal byproduct.
Adult Dosage
Take one to two capsules daily, or as directed by a qualified health care practitioner.
Cautions
Consult a health care practitioner prior to use if you are pregnant, taking antiplatelet medication or blood thinners, or if you have gallstones, a bile duct obstruction, stomach ulcers or excess stomach acid. Consult a health care practitioner if symptoms persist or worsen. This product contains corn and soy derived ingredients, do not use if you have an allergy.
Main Applications
Antioxidant
Joint health
Cognitive health
Immune system support
Cellular growth health
Disclaimer
The information and product descriptions appearing on this website are for information purposes only, and are not intended to provide or replace medical advice to individuals from a qualified health care professional. Consult with your physician if you have any health concerns, and before initiating any new diet, exercise, supplement, or other lifestyle changes.
Supplement Facts
Serving Size:
One Capsule
Longvida
®
Optimized Curcumin (from Curcuma Longa root) - 133.3 mg
* LONGVIDA® is a registered trademark of Verdure Sciences Inc. International patent pending.
Non-medicinal Ingredients: ascorbyl palmitate, soy lecithin (non-GMO), maltodextrin, microcrystalline cellulose, silicon dioxide, stearic acid, sodium stearyl fumarate.
Capsule: hypromellose.
Couldn't load pickup availability