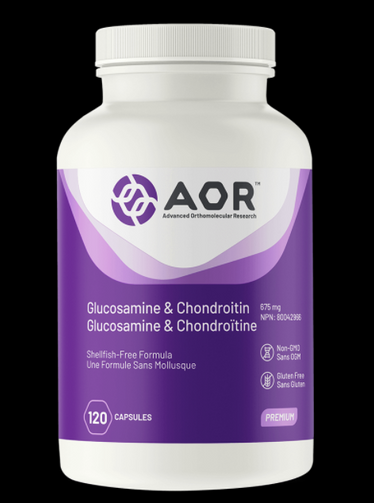 AOR Glucosamine & Chondroitin
AOR Glucosamine & Chondroitin
Regular price

Sale price

$40.99
AOR Glucosamine & Chondroitin
Shellfish-free formula
Two key joint health compounds in one formula
Relieves joint pain from arthritis
Provides clinically proven doses
Glucosamine sulfate and chondroitin sulfates are two components of joint cartilage and other types of structural tissue, making them important nutrients in those with joint pain. Both ingredients are commonly used for their ability to reduce pain and improve function in the joints of arthritis sufferers.
The main purpose of glucosamine and chondroitin is to provide structural support for joint cartilage. Chondroitin provides resistance against compression forces, while glucosamine provides support for both the cartilage and the synovial fluid surrounding the joints that help cushion them and reduce friction. Therefore, these compounds are most often taken by those with osteoarthritis to reduce joint breakdown and pain.
Subjects supplementing with glucosamine and chondroitin have been able to reduce their use of non-steroidal anti-inflammatory drugs (NSAIDs), and although these natural supplements take longer to provide relief than NSAIDs, their beneficial effects have been shown to last longer.
AOR Advantage
AOR's Glucosamine & Chondroitin provides two well-researched nutrients in therapeutic dosages, providing natural and effective relief for joint pain in a shell-fish-free formula.
Discussion
Glucosamine sulfate and chondroitin sulfate are components of the cartilage in joint tissue, supporting joint structure by aiding in the formation of connective tissue and protecting against the deterioration of cartilage from chronic joint diseases while helping to relieve joint pain associated with osteoarthritis.
Guarantees
AOR™ guarantees that all ingredients have been declared on the label. Contains no wheat, gluten, nuts, peanuts, sesame seeds, sulfites, mustard, soy, dairy, eggs, fish, or shellfish.
Adult Dosage
Take three to four capsules daily with food, or as directed by a qualified health care practitioner. Allow a minimum of one month to see beneficial effects.
Cautions
Consult a health care practitioner prior to use if you are pregnant, breastfeeding, or if symptoms worsen with ongoing supplementation. This product contains corn-derived ingredients, do not use it if you have an allergy.
Main Applications
Osteoarthritis
Sports injuries
Cartilage regeneration
Disclaimer
The information and product descriptions appearing on this website are for information purposes only and are not intended to provide or replace medical advice to individuals from a qualified health care professional. Consult with your physician if you have any health concerns, and before initiating any new diet, exercise, supplement, or other lifestyle changes.
Serving Size: One Capsule
Glucosamine Sulfate 2KCl (vegetarian)
375 mg
Chondroitin Sulfate (bovine cartilage)
300 mg
Non-medicinal Ingredients: Microcrystalline cellulose, sodium stearyl fumarate.
Capsule: hypromellose.
Couldn't load pickup availability