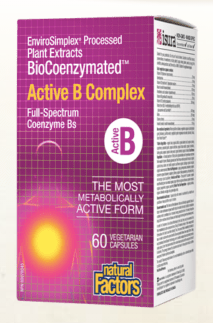 Natural Factors BioCoenzymated™ Active B Complex
Natural Factors BioCoenzymated™ Active B Complex
Regular price

Sale price

$25.99
BioCoenzymated™ Active B Complex
60 Vegetarian Capsules (SKU 1132)
120 Vegetarian Capsules (SKU 1133)
Natural Factors Active B Complex with full-spectrum coenzyme B vitamins is a one-per-day formula featuring highly bioavailable B vitamins alongside Farm Fresh Factors, a bioenergetic blend of phytonutrients, for active support of energy metabolism. Upgrade your standard B complex supplement to this non-GMO, vegan-friendly, advanced B complex, and feel the difference!
Aids nutrient metabolism, to support energy production in the body
Helps the body form red blood cells and tissues
Helps support normal growth and development
Helps support liver function
A factor in the maintenance of good health
Medicinal Ingredients
Each vegetarian capsule contains:
Vitamin B1 (thiamine hydrochloride)
25 mg
Benfotiamine
10 mg
Vitamin B2 (riboflavin 5'-phosphate sodium)
10 mg
Niacin (inositol hexanicotinate)
100 mg
Pantothenic acid (calcium

 

d-pantothenate)
100 mg
Vitamin B6 (pyridoxal 5-phosphate)
25 mg
Vitamin B12 (methylcobalamin)
500 mcg
Folate (from (6S)-5-methyltetrahydrofolic acid (MTHF), glucosamine salt, Quatrefolic

 

®)
400 mcg


Biotin




250 mcg

Choline (citrate)
50 mg
Inositol (inositol, inositol hexanicotinate)
50 mg
Non-Medicinal Ingredients

Microcrystalline cellulose, vegetarian capsule (carbohydrate gum [cellulose], purified water), vegetable grade magnesium stearate (lubricant), silica, Farm Fresh Factors

TM

 

* .

*Active Vegetables

 

– organic kale, organic alfalfa, organic cilantro leaf, organic parsley, caperberry, sprouted garlic, organic artichoke, organic black radish, organic dandelion, barley grass, pepper, organic celery seed, organic beetroot, organic tomato;

 

Cruciferous Vegetables

 

– A broad spectrum of fully active glucosinolates and myrosinase enzymes from wasabi rhizome

 

(Wasabia japonica)

 

and fresh freeze-dried sprouted broccoli, organic upland cress, daikon, red radish, organic cauliflower, organic cabbage, organic arugula, organic watercress leaf;

 

Ultra Fruit Polyphenols

 

– grape, pomegranate, strawberry, organic cranberry, organic blueberry, raspberry, bilberry, organic Indian gooseberry, schizandra berry, red orange, organic açai berry;

 

Herbals and Plants

 

– Theracurmin

®

 

curcumin, organic decaffeinated green tea extract, organic ginger rhizome, organic echinacea, organic oregano, organic peppermint, organic spearmint;

 

Whole Plant Sea Vegetables

 

– organic spirulina, organic chlorella, red algae, blue green algae, kelp .
Suggested Use
This formula offers balanced ratios and clinically supported doses. A factor in the maintenance of good health. Helps to maintain the body's ability to metabolize nutrients which contributes to an increased energy production level in the body. Helps the body to form red blood cells and tissues, and helps support normal growth and development.
Couldn't load pickup availability