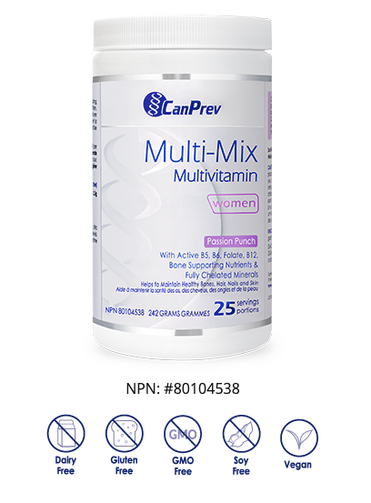 Can Prev Multi-Mix Multivitamin
Can Prev Multi-Mix Multivitamin
Regular price

Sale price

$39.99
Can Prev Multi-Mix Multivitamin
Powdered Multivitamin in a delicious Passion Punch flavour to increase your daily intake of 25 essential vitamins and minerals.
Delicious Passion Punch
25 essential vitamins and minerals optimized for absorption
Bioactive forms of B vitamins
Fully chelated minerals
18mg of gentle and effective iron bis-glycinate
Maintains healthy bones, cartilage, teeth, and gums
Supports healthy hair, skin and nails
Why choose a powdered multi?
Fitting everything we need in a day into a single capsule is impossible - Multi-Mix Multivitamin offers a delicious and easy way to increase your daily intake of 25 essential vitamins and minerals, all optimized for effective absorption. It features bioactive B vitamins and fully chelated minerals, so you can feel the full benefit in every scoop.
Multi-Mix Multivitamin powder is a truly complete one-a-day formula. It's enriched with key B-vitamins in their active forms, and impactful doses of soy-free vitamin K2, vegan D3, choline, magnesium, calcium and iron chelates for optimal bone support. Multi-Mix also includes GMO-free fermentable fibre for digestive support. With all the desired micronutrients one could ask for plus a splash of natural pineapple flavour, a daily scoop of Multi-Mix Passion Punch is a delicious way to plunge into your best health.
Each scoop contains
Beta-carotene
600mcg/1000IU
Vitamin C (ascorbic acid)
125mg
Vitamin D3 (cholecalciferol
25mcg/1000IU
Mixed tocopherol concentrate
50mg
Vitamin K2 (menaquinone-7, K2VITAL®)**
100mcg
Vitamin B1 (thiamine HCL)
25mg
Vitamin B2 (riboflavin-5-phosphate)
10mg
Vitamin B3 (inositol hexanicotinate)
50mg
Vitamin B5 (Pantesin®)***
50mg
Vitamin B6 (pyridoxal-5-phosphate)
40mg
Vitamin B12 (methylcobalamin)
800mcg
Folate (L-5-methyltetrahydrofolate)
400mcg
Biotin
500mcg
Inositol (inositol hexanicotinate)
12mg
Choline (VitaCholine™ Choline L(+) Bitartrate)****
75mg
Calcium
(TRAACS™ calcium bis-glycinate chelate, DimaCal™ di-calcium malate)
150mg
Magnesium
Albion™ di-magnesium malate,
TRAACS™ magnesium bis-glycinate chelate buffered
(magnesium bis-glycinate chelate, magnesium oxide)
150mg
Zinc
(TRAACS™ zinc bis-glycinate chelate)
15mg
Iron
(Ferrochel™ ferrous bis-glycinate chelate)
18mg
Copper
(TRAACS™ copper bis-glycinate chelate)
900mcg
Selenium
(Albion™ selenium glycinate)
55mcg
Molybdenum
(TRAACS™ molybdenum glycinate chelate)
45mcg
Manganese
(TRAACS™ manganese bis-glycinate chelate)
2.3mg
Chromium
(TRAACS™ chromium nicotinate glycinate chelate)
120mcg
Boron
(Albion™ Bororganic glycine)
500mcg
Magnesium
(TRAACS™ magnesium bis-glycinate chelate)*
250mg

 

 



*Mineral chelates supplied by Albion Laboratories, Inc. Albion™, DimaCal™, TRAACS™ and the Albion Gold Medallion design are trademarks of Albion Laboratories, Inc. U.S.Patents 6,706,904, 7,838,042.
**K2VITAL®

 

is the registered trademark of Kappa Bioscience AS.
***Pantesin®

 

is a registered trademark of Kyowa Pharma Chemical Co., Ltd.
****VitaCholine™ is a trademark of Balchem Corporation.
Non-Medicinal ingredients: Organic acacia (Fibregum™), purified water, natural pineapple flavour, glycine, citric acid, dextrin, rice hull powder, silica, corn starch, tricalcium phosphate, sodium carbonate, sodium carboxymethyl cellulose, stevia, xylitol, medium chain triglycerides, maltodextrin, microcrystalline cellulose, sucrose (12mg from sugar beet).
Directions
Adults: Take one (1) scoop per day or as directed by a healthcare practitioner. Take a few hours before or after other medications or natural health products. 400 mcg of folate per day is adequate for most women to reduce the risk of neural tube defects. Consult a healthcare practitioner to determine if you would benefit from additional folate before taking this product.
Known Adverse Reactions
Stop use if hypersensitivity occurs.
Cautions and Warnings
As with any natural health product, you should consult a healthcare practitioner prior to use especially if you are taking blood thinners. Do not use if seal is broken
Couldn't load pickup availability