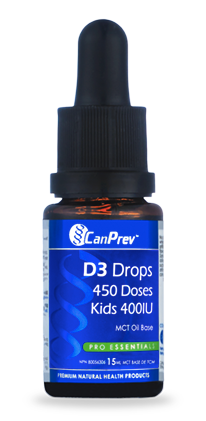 CanPrev D3 Drops Kids 400IU
CanPrev D3 Drops Kids 400IU
Regular price

Sale price

$11.99
CanPrev D3 Drops Kids 400IU
Liquid sunshine in a bottle to help support bone health
Each drop contains 400IU D3
450 drops per bottle
Every member of your family should be taking a vitamin D supplement, even the little ones. A deficiency can cause rickets (softening of the bones) particularly in the first two years of life. Lack of vitamin D can also compromise bone density and strength and can even cause joint pain. Vitamin D is vital for the growth, development and maintenance of healthy bones and teeth.
Here are some myths and facts about vitamin D.
Doesn't my baby get vitamin D through breast milk?
– Infants that are partially or fully breastfed do not get enough vitamin D through breast milk and are at risk of poor teeth and bone growth, or even worse, developing rickets. Although breast milk does contain small amounts of vitamin D (about 25 IU per litre or less), it does not contain adequate amounts for rapidly growing babies, so supplementation with drops is necessary.*
Don't kids who drink a lot of milk and play outside get enough vitamin D?
– Not really. Due to the increased use of sunscreens and lifestyle changes that have parents moving away from dairy and more towards soy and nut milks, kids are absorbing lower amounts of vitamin D if their usual beverages aren't fortified.
How do I know how much vitamin D is safe for my child?
– Health Canada recommends that all breastfed babies be given a daily vitamin D supplement of 400 lU, beginning at birth until age one. For children age one to thirteen, the dosage should increase to 1,000 IU daily.**
CanPrev D3 Kids 400 lU is a vitamin D supplement specially formulated for children. One drop daily helps develop and maintain healthy bones and teeth and prevent vitamin D deficiency.
Ingredients
Each drop contains
| | |
| --- | --- |
| Vitamin D3 (cholecalciferol) | 400 IU |
Non-Medicinal Ingredients
Medium chain triglycerides from coconut, d-alpha tocopherol.
Recommended Use
A factor in the maintenance of good health. Helps in the development and maintenance of bones. Helps in the development and maintenance of teeth. Helps to prevent vitamin D deficiency. Helps in the absorption and use of calcium. Helps in the absorption and use of phosphorus. Calcium intake, when combined with sufficient Vitamin D, a healthy diet and regular exercise may reduce the risk of developing osteoporosis.
Directions
Infants and older - Take 1 drop per day or as directed by a healthcare practitioner.
Cautions & Warnings
Do not use if seal is broken. Keep out of reach of children.
Couldn't load pickup availability