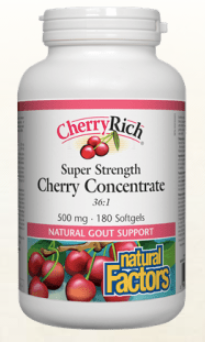 Natural Factors CherryRich® 500 mg · Super Strength Cherry Concentrate
Natural Factors CherryRich® 500 mg · Super Strength Cherry Concentrate
Regular price

Sale price

$21.99
CherryRich® 500 mg · Super Strength Cherry Concentrate
90 Softgels (SKU 4525), 180 Softgels (SKU 4545) 
CherryRich Super Strength Cherry Concentrate is a non-GMO, 36:1 concentrate made from fresh whole Bing cherries, loaded with anthocyanins and other important phytonutrients. It is an essential supplement for anyone suffering from painful attacks of gout. Cherries are known to help reduce inflammation associated with arthritis and other inflammatory conditions.
Reduces elevated uric acid levels, an underlying cause of gout
Helps reduce the inflammation and pain of arthritis and other inflammatory conditions
Provides anthocyanins, known for their antioxidant and anti-inflammatory activity
Contains bioactive nutrients, including potassium, boron, vitamin C, quercetin, and carotenoids
Non-GMO concentrate made from the whole cherry, with no added sugar
Advanced Info
CherryRich Super Strength Cherry Concentrate provides a broad spectrum of antioxidant nutrients for the maintenance of good health. Dark red sweet cherries (Bing) are bursting with phytonutrients that promote good health and slow aging. In particular, CherryRich contains concentrated flavonoids known as anthocyanins that are not only responsible for the dark red hue of the cherries but also exert antioxidant and anti-inflammatory effects. As the connection between chronic inflammation and disease becomes clear, a high intake of anthocyanins is recognized as an important health goal. Cherry extracts have long been used to help reduce the pain and inflammation associated with gout. Modern research has now validated this popular folk remedy.
In addition to the anthocyanins, CherryRich provides other flavonoids, polyphenols, and is a natural source of vitamin C, beta-carotene, potassium, pectin, and significant levels of boron – a key nutrient for bone health.
CherryRich is a super strength, 36:1 sweet cherry concentrate that is full of the antioxidants and phytonutrients found in fresh Bing cherries. Each softgel capsule is equivalent to 18,000 mg of cherries, with an ORAC value of 15,000 per 100 g. CherryRich is an all-natural, non-GMO concentrate made from the whole cherry, with no added sugar, preservatives, additives, or excipients.
Couldn't load pickup availability