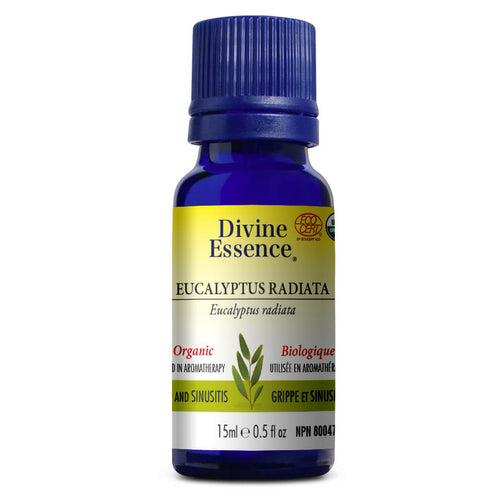 Divine Essence Organic Eucalyptus Radiata Essential Oil
Divine Essence Organic Eucalyptus Radiata Essential Oil
Regular price

Sale price

$9.99
Divine Essence Organic Eucalyptus Radiata Essential Oil
Eucalyptus Radiata essential oil is used in aromatherapy to relieve symptoms of flu, rhinitis, sinusitis, bronchitis and otitis.
BOTANICAL NAME - 

Eucalyptus radiata

PART OF PLANT - 

Leaf

ORIGIN - 

South Africa/Australia/Mozambique

CULTURE - 

Organic, certified by ECOCERT® SA

CHEMOTYPE - 

1.8 CINEOLE

OTHER NAME - 

Narrow-leaved peppermint

EXTRACTION METHOD - 

Steam distillation

ODOUR - 

Minty, fresh and cineol-like

COLOUR - 

Colorless to pale yellow

NPN

80047249
An impressive tree that can reach heights anywhere from 30 to 50 meters, Eucalyptus Radiata is the eucalyptus most likely to be a staple in most medicine cabinets. Very useful in winter to protect against winter flus and grippe.
Direction/use
Inhalation Add 12 drops to a bowl containing 150 ml of steaming hot water. Inhale deeply.
FOR EXTERNAL AND OCCASIONAL USE ONLY. DO NOT TAKE ORALLY. DO NOT USE ESSENTIAL OILS UNDILUTED. KEEP OUT OF REACH OF CHILDREN. If accidental ingestion occurs, seek urgent medical attention or contact a Poison Control Center. Avoid contact with eyes and mucous membranes; if this happens, rinse thoroughly with vegetable oil. Do not administer to children under 3 years old. Do not use if pregnant or nursing. If you have epilepsy, consult a health care practitioner prior to use. May cause allergic reaction (e.g. irritation of the respiratory tract) in which case, discontinue use and consult a health care practitioner. In rare cases, nausea, vomiting and diarrhea have been known to occur. Symptoms of poisoning from eucalyptus essential oil include heartburn, nausea, vomiting, dizziness, muscular weakness, myosis and a feeling of suffocation; cyanosis and convulsive episodes may occur. Consult a health care practitioner if symptoms worsen or persist.
Couldn't load pickup availability