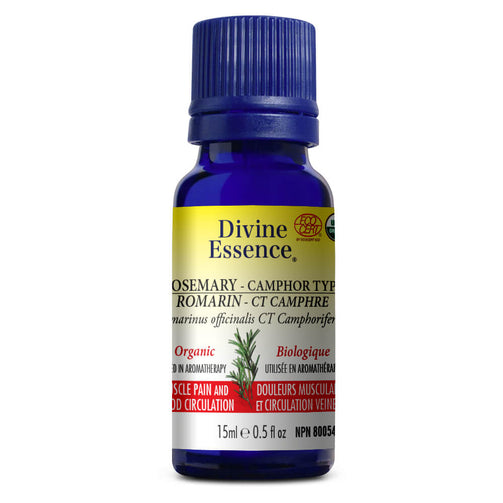 Divine Essentials Organic Rosemary - Camphor Type Essential Oil
Divine Essentials Organic Rosemary - Camphor Type Essential Oil
Regular price

Sale price

$11.99
Divine Essentials Organic Rosemary - Camphor Type Essential Oil
Rosemary - Camphor Type essential oil is used in aromatherapy to relieve muscle and joint pain, as well as to improve blood circulation.
BOTANICAL NAME - 

Rosmarinus officinalis CT Camphoriferum

PART OF PLANT - 

Flowering top

ORIGIN - 

Spain

CULTURE - 

Organic, certified by ECOCERT® SA

CHEMOTYPE - 

CAMPHOR

EXTRACTION METHOD - 

Steam distillation

ODOUR - 

Characteristic, fresh, rustic, more or less camphoraceous

COLOUR - 

Pale yellow to yellowish green

NPN

80054454
A typical shrub found in the scrubland, thickets and rockeries of the Mediterranean Coast, rosemary is an aromatic plant that is commonly used in cooking. In aromatherapy, there are many chemotypes of rosemary essential oil. 
Directions/Use
Topical (Adults) TO APPLY LOCALLY, mix 2 to 5 drops in 1/2 teaspoon (2.5ml) of vegetable oil; apply 3 times per day. TO APPLY TO A LARGE AREA OF THE BODY, mix 2 to 5 drops in 1 teaspoon (5ml) of vegetable oil; apply once a day.
FOR EXTERNAL AND OCCASIONAL USE ONLY. DO NOT TAKE ORALLY. DO NOT USE ESSENTIAL OILS UNDILUTED. KEEP OUT OF REACH OF CHILDREN. If accidental ingestion occurs, seek urgent medicalattention or contact a Poison Control Center. Avoid contact with eyes and mucous membranes; if this happens, rinse thoroughly with vegetable oil. Do not use if you are pregnant or breastfeeding. If you have epilepsy, do not use this product. May cause allergic reaction (e.g. skin rashes, irritation or dermatitis); in which case, discontinue use and consult a health care practitioner. Do not use on inflamed skin or if suffering from dermatitis. Consult a health care practitioner if symptoms worsen or persist. If you suffer from asthma, consult a health care practitioner before using this product. Avoid exposing treated area to sunlight. Consult a health care practitioner before usage if you suffer from liver ailments or if symptoms of liver trouble occur (such as abdominal pain, dark yellow urine or jaundice).
Couldn't load pickup availability