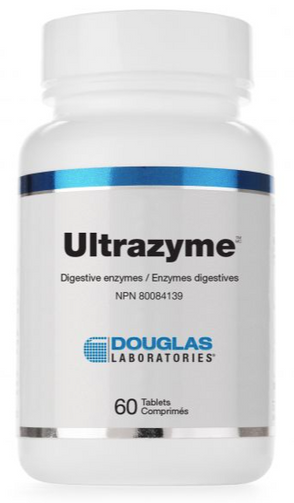 Douglas Laboratories Ultrazyme™
Douglas Laboratories Ultrazyme™
Regular price

Sale price

$32.99
Douglas Laboratories Ultrazyme™
Digestive enzymes.
Ultrazyme is a full spectrum, cold-processed, high potency enzyme formula. Ultrazyme is specifically formulated with high levels of catalytically active pancreatic digestive enzymes that assist in the digestion of fats, proteins and carbohydrates.
Additionally, Ultrazyme contains ox bile extract derived from the pancreas of bovine, further adding digestive enzymes to this unique formula. Bromelain and cellulase are plant-derived enzymes that act to breakdown macromolecule protein complexes and cellulose respectively. Ultrazyme can aid digestion by providing digestive enzymes further increasing nutrient bioavailability while minimizing antibody responses in the digestive tract. 
Ingredients:
Each Tablet Contains:

Pancreatic Enzymes/ Enzymes pancrétiques (from pancreas of/ de pancréas de Sus scrofa)

62.5 mg

Yielding/ Rendement:

Amylase

12,500 USP Units

Protease

12,500 USP Units

Lipase

1000 USP

Ox Bile

50 mg 

L-Lysine (l-lysine monohydrochloride)

40 mg

Pepsin (from stomach)

33 mg (330 000 FCC PU)

Stem Bromelain

25 mg (900 000 FCC PU)

Cellulase

3 mg (45 FCC CU)
Non-medicinal ingredients:  Dicalcium phosphate, dihydrate, cellulose, tablet coating (hypromellose, glycerin), croscarmellose sodium, stearic acid, magnesium stearate, silica
Suggested Dose:  Adults: Take 2 tablets 2 times daily with meals, a few hours before or after taking other medical agents or natural health products, or as directed by your healthcare practitioner. Use the smallest effective dose that controls symptoms. Consult your healthcare practitioner for use beyond 4 weeks.
Cautions:  Do not use if you are sensitive to pancreatic enzymes or pork proteins, or have gallstones or a bile duct obstruction. Consult your healthcare practitioner prior to use if you are pregnant or breastfeeding, taking blood thinners, anti-inflammatory or antimicrobials, are following a low-protein diet, have diabetes, a gastrointestinal ulcer, pancreatitis, pancreatic exocrine insufficiency or cystic fibrosis, or are having surgery. Consult your healthcare practitioner if symptoms persist or worsen. Stop use if allergy, nausea, vomiting, diarrhoea, abdominal pain or heartburn occur. Keep out of the reach of children. Useonly if safety seal is intact. Store in a cool, dry place.
Couldn't load pickup availability