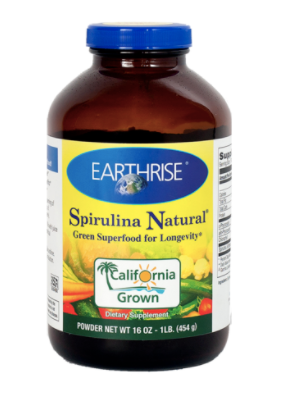 Earthrise Spirulina Natural® Powder
Earthrise Spirulina Natural® Powder
Regular price

Sale price

$59.99
Earthrise Spirulina Natural® Powder
Earthrise California grown spirulina is one of the most nutrient-dense foods on the planet. This plant-based super food can provide you with essential nutrients to feel energy, vitality, and well-being.
Health Benefits:
Scientific and clinical studies show Spirulina Natural® protects the heart and brain from oxidative stress while supporting a healthy immune system.*
Promotes Immune Health* and Protects Heart & Brain from Oxidative Stress* through powerful antioxidant protection*
Promotes Eye Health* through high beta-carotene content
Unique Features:
California grown since 1976
Non-GMO Project Verified
No Pesticides or Herbicides
No Irradiation
Ingredients:
Nutritional Content:
Phycocyanin (Super Blue Antioxidant Unique to Spirulina)
Chlorophyll and potent Beta-carotene Vitamin A
Easily absorbed Iron
Essential Fatty Acids and Vegetarian Glycogen
Natural Vitamins and Minerals
9 Essential and Non-Essential Amino Acids
Form:
Powder for efficient absorption
Features:
Just 2 servings a day equals 7+ servings of common fruits and vegetables in terms of antioxidant content (beta-carotene)
Non-GMO Project Verified
100% Vegan
Kosher, Halal
Naturally & Ecologically Grown
Storage:
Keep your spirulina tightly sealed, in a dry area, and away from sunlight for optimal storage.
Couldn't load pickup availability