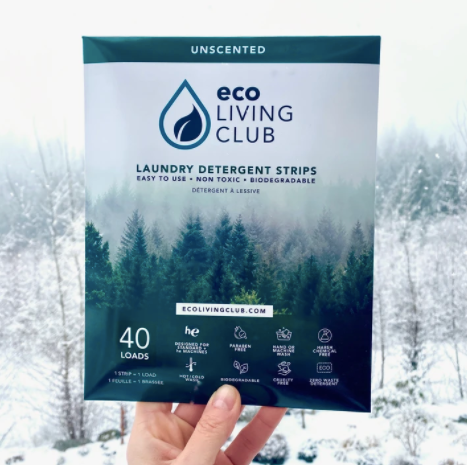 Eco Living Club - Laundry Detergent Strips
Eco Living Club - Laundry Detergent Strips
Regular price

Sale price

$14.99
Eco Living Club - Laundry Detergent Strips
A minimalist eco laundry detergent that challenges the traditional pods and plastic jugs of the past. We removed the water from our detergent, resulting in an ultra-concentred earth-friendly detergent strip. Why ship water? Did you know, a traditional liquid detergent is made up of 60-90% water? Eco Laundry Club is reducing the carbon footprint of laundry worldwide.

Our detergent strip package is recyclable cardboard paired with a budget-conscious price.
Worried about the ingredients? Don't be. Our strips are free of harmful chemicals and will keep your home safe and clean. Our strips have a light spring scent with a hint of lemon. Unscented is also available.
Reduce your detergent waste & cost. Each sheet can be torn in half for a normal size load and a full sheet for an extra-large load.
Our detergent is easy to use, mess-free, and perfectly portioned. We offer one-time purchases, subscriptions, and wholesale options.
Ready to make a difference? We have a 10 wash happiness guarantee; no questions asked and we'll give you a 100% refund if you choose to return the product. To sweeten the deal, we offer free shipping to North America.
FEATURES
✓ Ultra-concentrated laundry detergent
✓ 100% soluble/ biodegradable
✓ Can be used with he & standard machines
✓ Suitable for hand wash & machine wash
✓ Suitable for coloured & white fabrics
✓ For hot & cold water
✓ Free of 1.4 dioxane
✓ Free of phosphates
✓ Free of optical brighteners
✓ Free of dyes
✓ Free of formaldehyde
✓ Free of chlorine bleach
✓ Free of nonylphenol ethoxylates
✓ Free of benzyl acetate
✓ Free of ammonium sulphate
✓ Free of dichlorobenzene
✓ Zero waste detergent
✓ Recyclable packaging with no plastic
✓ Low carbon transit footprint
✓ No testing on animals & no animal byproducts
Couldn't load pickup availability