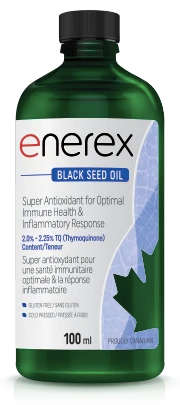 Enerex Black Seed Oil
Enerex Black Seed Oil
Regular price

Sale price

$32.99
Black Seed Oil with Vitamin E offers health maintenance antioxidants. Black Seed Oil is very high in good fats: with 50% Linoleic acid (omega 6 essential fatty acid), 25% Oleic acid (olive oil's health-giving omega 9). Although it was used as far back as 5000 years ago, today we know that Black Seed Oil contains compounds including beta-sitosterol, crystalline nigellone, and thymoquinone.
Black Seed is fairly new to mainstream natural health but isn't new to herbal remedies and herbal pharmacopeias. According to history, it was used by Egyptian pharaohs and has been widely used in Ayurvedic medicine. Today, science shows that oil compounds can be beneficial for various conditions.
Enerex Black Seed Oil from the Mediterranean is certified organic, first cold-pressed pure oil for maximum quality, and has a delightful "nutty" flavor. It offers essential fatty acid (meaning fat that is vital to our health but cannot be made by the body so must be consumed from foods). It has added Vitamin E, naturally occurring mixed tocopherols that are known to be super-antioxidants!
The seeds of greatness
Black Seed contains over 100 active chemical compounds. The three most studied ingredients are:
crystalline nigellone
thymoquinone
beta-sitosterol
Medicinal Ingredients:
Black Seed Oil (Nigella sativa, seed) 
   Providing: 50% Linoleic Acid and 25% Oleic Acid
2000 mg
Vitamin E

 

(Mixed Tocopherols Concentrate)
   [d-Alpha Tocopherol 25 IU .... 16.75 mg]
   [d-Gamma Tocopherol .... 20.50 mg]
   [d-Delta Tocopherol .... 7.65 mg]
25 IU
DIRECTION OF USE
Take half a teaspoon (2 g = 2.5 ml) once daily with food, diluted in water or juice, or as directed by a health care practitioner. 
Store in a cool, dry place. Keep out of reach of children. Consult a health care practitioner prior to use if you have a known immune disorder, or for use beyond 8 weeks. May cause gastrointestinal upset. Do not use if pregnant, breastfeeding, or if you are trying to conceive.
Couldn't load pickup availability