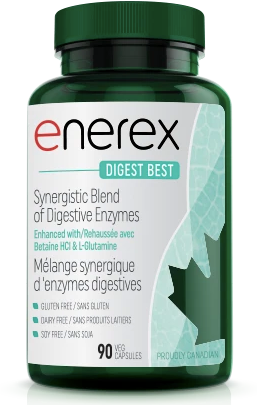 Enerex Digest Best
Enerex Digest Best
Regular price

Sale price

$36.99
Enerex Digest Best Synergistic Blend - 90 V-caps
Listen to Your Gut!
If you have digestive distress from indigestion, gas, bloating, or acid reflux gets relief with Digest Best. This synergistic blend of digestive enzymes formula effectively breaks down proteins, carbs, fats, dairy, vegetable fibers, and even gluten to rescue your digestive system. Enhanced with Betaine HCl, this digestive support product is quick to act in acute situations or beneficial for daily use.
Vegan
Non-GMO
Dairy-Free
Soy-Free
Gluten-Free
Digestive System Solution
Many ills begin in the gut so having a healthy digestive system is key to your wellbeing. The multi-dimensional action of Digest Best helps to replace the enzymes naturally found in raw foods that are lost in cooking and processing. Big meals, heavy proteins, food intolerances, or bad combinations can overload your system. These enzymes will help relieve digestive complaints, plus help you fully digest the nutrients in foods, especially as we age.
This product is unique with the additions of Betaine HCl especially good at breaking down difficult-to-digest proteins, and L-Glutamine, which helps rebuild and soothe the intestinal lining.
Taking plant-based digestive enzymes increases the digestion and absorption of food by helping to break down carbohydrates, proteins, fats, dairy, and vegetable material (fiber or cellulose). These enzymes will not only relieve digestive complaints, they will also help you fully benefit from the nutrients in foods. Keep in mind that as you age, natural enzymes produced by the body are reduced so digestion and the ability to absorb nutrients continue to decrease.
Do you feel that you're in constant conflict with whatever you put into your mouth?
Food intolerance, or sensitivity, affects a substantial percentage of the population. Symptoms include bloating, gas, constipation, cramping, diarrhea, indigestion, skin blemishes/rash, flushing, and headaches. Common culprits are dairy, wheat, eggs, corn, chocolate, soy, nuts, beef, alcohol, and coffee.
Other than avoiding foods that cause unpleasant reactions, taking a synergistic blend of digestive enzymes to supplement naturally breaks down the different components (sensitivity-causing protein or sugar particles) of your meals, minimizing the amount of undigested food reaching the large intestine. This results in fewer gases and toxins being produced by bacteria and reduces intolerance symptoms.
Enerex Digest Best synergistic blend contains enzymes including Amylase and Invertase to break down starchy carbohydrates, Protease and Peptidase to break down protein, Cellulase to break down the soluble fiber in raw fruit, vegetables, and grains, Alpha-galactosidase to digest sugars found in grains, beans, and cruciferous vegetables, Lipase to break down fat, and Lactase to break down dairy products. This formula also includes Betaine HCl to aid indigestion, L-Glutamine to help repair and soothe the digestive tract, and DPP IV Protease to help further break down gluten in grains and casein in dairy — the common culprits for those with wheat and dairy intolerance.
What are enzymes?
Enzymes – created by the body and from food – perform approximately 10,000 different vital reactions in the body in addition to digestion. Digestive enzymes are protein molecules in the stomach, small intestine (produced by the liver and pancreas) and mouth (saliva) that break down foods into useable parts. Raw plants are the best source of food enzymes (even as little heat as 105 to 125 degrees F destroys enzymes). Enzymes make the plants' seeds sprout. Foods rich in enzymes include papaya, avocado, grapes, kiwi, banana, pineapple, mangos, dates, raw honey, bee pollen, virgin olive oil, sprouts, and fermented food (sauerkraut, miso, tempeh).
Each Vegetarian Capsule Contains:
Betaine HCl 
150.00 mg
L-Glutamine
100.00 mg
Alpha-Amylase

 

(A. flavus var. oryzae*) 5,000 Alpha-amylase Dextrinizing Units
33.33 mg
Peptidase

 

(A. flavus var. oryzae*) 5,356 FCC HUT (100 DPP IV) 
19.48 mg
Diastase

 

(A. niger*) 150 FCC DU 
16.67 mg
Fungal Protease SP

 

(A. flavus var. oryzae*) 12,633 FCC HUT
15.79 mg
Bacterial Protease SP

 

(B. subtilis*) 4,737 FCC PU 
4.74 mg
Lactase

 

(A. flavus var. oryzae*) 300 FCC LU
3.00 mg
Cellulase

 

(T. longibrachiatum*) 500 FCC CU
2.78 mg
Alpha-Galactosidase

 

(A. niger*) 50 FCC AGU 
1.67 mg
Lipase

 

(R. oryzae*)

 

53.33 FCC LU 
1.33 mg
Invertase

 

(Saccharomyces cerevisiae*) 100 FCC SU
0.50 mg
Non-Medicinal Ingredients: Maltodextrin, medium-chain triglycerides, hypromellose (vegetarian cellulose-complex capsule).

ADULTS: Take 1-2 capsules 3 times daily with meals or as directed by a health care practitioner.

Consult a health care practitioner prior to use if you are pregnant or breastfeeding, have Crohn's disease, are allergic to fungal or mold spores, have an ulcer, are taking anticoagulants or antidiabetics, or if abdominal pain, nausea, or vomiting occurs.

Store in a cool, dry place. Keep out of reach of children.
Couldn't load pickup availability