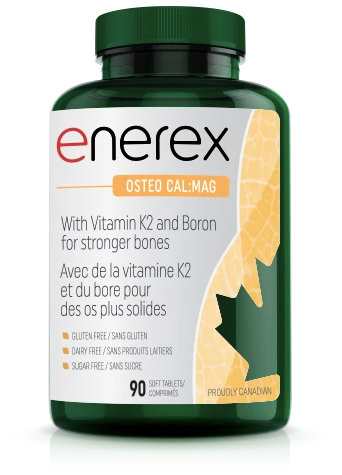 Enerex Osteo Cal:Mag
Enerex Osteo Cal:Mag
Regular price

Sale price

$32.99
Enerex Osteo Cal:Mag
Keeping Your Bones Strong
This scientifically balanced mineral complex puts chelated calcium and magnesium together with their ideal co-workers of bamboo silica, boron, Vitamins D & K in a green superfood base of raw kale. Each of these elements, which are vital to bone development and maintenance, teeth and gums, muscles, and cardiovascular health, is more easily absorbed with our unique chilsonation process and whole food base. 
Builds Strength in Your Framework
These minerals form the foundation of our skeletal system, helping prevent osteoporosis, mend fractures, and contract muscles. But alone they are less functional without the co-factors that are essential to mineral metabolism so they can be utilized where needed. Dietary challenges, stress, and poor digestion can also create deficiencies and imbalances leading to disease.
Using a superior ratio of 1:1 for the calcium and magnesium, our unique soft tablet manufacturing process creates a product with superior absorption, while the whole food kale base helps correct our alkalinity and facilitates absorption of the difficult to digest minerals.
Will you get it?
A youthful, vibrant body, at any age, must have a strong structural foundation — meaning your skeleton. However, one in four women and one in eight men over the age of 50 have osteoporosis. In Canada, more women die each year as a result of osteoporotic fractures than from breast and ovarian cancer combined. Between 45 and 75 years of age, women lose 30 percent of their skeletal structure and men lose 15 percent.
Calcium Confusion
Your body needs Calcium to contract and expand muscles and blood vessels, to secrete essential hormones and enzymes, and to send messages through your nervous system. It's so important that without enough Calcium from your diet, your body robs what it needs from your bones.
You are what you absorb
Part of the osteoporosis problem in Calcium absorption. It has been estimated that children absorb 75 percent of the Calcium they eat, and adults less efficient digestive systems absorb 30 percent. And whereas the Calcium in plant foods is ideal, research is proving that Calcium from dairy foods may not be effective to build bones because its acidity might pull Calcium from bones to buffer them.
Your body's 206 bones are living, ever-changing tissue. Your entire skeleton will be replaced every 7 to 20 years (estimates vary). But poor nutrition, acidity, lack of exercise and sunshine, low parathyroid hormone, and stress cause loss of Calcium and other minerals from bones. This starts to create tiny pits that make them less dense, weak, and brittle. This is osteoporosis.
Features
Enerex OSTEO CAL:MAG offers highly-absorbable chelated Calcium and Magnesium, along with co-worker nutrients Boron, Silicon, and Vitamins D and K that are vital to bones. The superfood raw organic kale is added to combat acidity in the body — which is thought by some researchers to be the missing link to osteoporosis prevention.
Calcium can't get into bones on its own. It needs co-partners (co-factors): Magnesium, Vitamin D, Vitamin K, and trace minerals — Magnesium must be supplemented with Calcium for a healthy balance in the body; Vitamin D3 helps Calcium to be absorbed; Boron helps to prevent loss of Calcium and Magnesium (excreted in the urine), and Silicon helps Calcium to be absorbed by the body. Enerex OSTEO CAL:MAG provides the important co-factors nutrients.
INGREDIENTS
EACH SOFT TABLET CONTAINS:
Medicinal Ingredients:
Calcium

 

(HVP Chelate*) (100 mg elemental calcium)
500 mg
Magnesium

 

(HVP Chelate*) (100 mg elemental magnesium)
500 mg
Organic Raw Kale

 

(Brassica oleracea var. viridis) Leaf
200 mg
Bamboo Extract

 

(35 mg silica) Bambusa vulgaris stems 
50 mg
Boron

 

(HVP Chelate*) (1 mg elemental boron)
20 mg
Vitamin K2

 

(Menaquinone-7)
30 mcg
Vitamin D3

 

(Cholecalciferoll) 100 IU 
2.5 mcg
---
Non-Medicinal Ingredients: Croscarmellose sodium, microcrystalline cellulose, vegetable stearic acid, vegetable magnesium stearate, silicon dioxide, vegetable cellulose.
There are no other ingredients added to this formula.
*Hydrolyzed Vegetable (rice) Protein (amino acid bonded minerals) – NO MSG.
ADULTS: Take 3 tablets daily; 1 with each meal or as directed by a health care practitioner.
Consult a health care practitioner prior to use if you are taking blood thinners or in a case of estrogen-dependent cancer. Take a few hours before or after pharmaceutical medications. Contraindicated in pregnancy and breastfeeding – consult a health care practitioner prior to use.
Store in a cool, dry place. Keep out of reach of children 
Couldn't load pickup availability