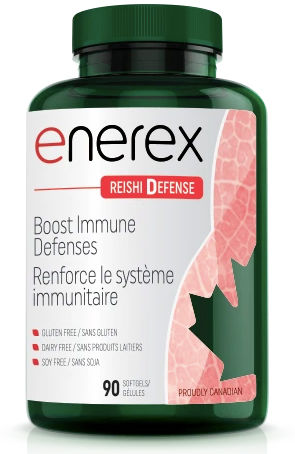 Enerex Reishi Immune Defence
Enerex Reishi Immune Defence
Regular price

Sale price

$24.99
Enerex Reishi Immune Defence
Boosting Immune Defenses
This exclusive blend of immune-supporting ingredients includes Red Reishi Mushroom, Vitamins D and C, and Citrus Bioflavonoids to provide a powerful boost for added protection and support. Reduce your risks, recover faster, or strengthen your immune system to combat harmful bacteria and invading viruses. Plus, antioxidant support to fight free radicals that contribute to disease and premature aging.
Non-GMO
Dairy-Free
Soy-Free
Gluten-Free
Sugar-Free
Putting Our Defenses into Action
Enerex Reishi Defense is an exclusive blend of immune-supporting ingredients including Red Reishi Mushroom, Vitamins D3 and C, and Citrus Bioflavonoids to provide a powerful boost, especially good during cold and flu season. They also offer antioxidant support to fight free radicals that contribute to disease and premature aging. Remember, your best defense is a good offense.
Why did we add a mushroom?
Fungi are vital to the health of a forest where they naturally grow, absorbing chemical toxins and waste from the environment, and helping it rebuild and regenerate. Their ability to restore balance within nature is exactly what they accomplish within your body's internal environment.             
Medicinal mushrooms like the revered Red Reishi support your immune system by making sure that your white blood cells behave effectively to stop invading viruses and bacteria, and stop diseased cells from replicating. Red Reishi Mushroom has been used safely and effectively for thousands of years in China. It affects over 300 body processes, particularly in the liver where detoxification takes place. In Traditional Chinese medicine, Reishi ranks highest among all 365 herbs listed in its oldest pharmacopeia, considered even more valuable than ginseng. 
Modern clinical research now validates that Red Reishi Mushroom is able to: 
Strengthen the immune system
Calm anxiety and help decrease negative effects of stress (which also helps improve immune function)
Reduce insomnia
Promote a healthy brain, and increase memory and concentration
Stimulate the liver to help the body detoxify
Support heart and vascular system health
Increase energy
Offer anti-aging benefits with antioxidants that fight free radicals
Reduce muscle tension and pain
Offer nutrients including protein, fiber, vitamin B, and calcium
Features
In addition to Reishi mushroom, we added Vitamin C because it has been documented through hundreds of research studies to support your immune system and speed recovery should you catch a virus. For those who are under significant physical stress, such as athletes, or emotional stress, supplementing with Vitamin C could dramatically reduce the risk of severe symptoms.
We also added 1,000 IUs of Vitamin D3 for a daily top-up due to its overwhelming evidence of immune support to prevent viruses and diseases including cancer, and due to our general deficiency in North America. 
The formula also condenses powerful antioxidants from fruits called Bioflavonoids in supplement form. Specific bioflavonoids – hesperidin, rutin, and quercetin (from lemons) – offer antioxidant protection for the heart and circulatory health, strengthen the immune system, protect the liver, reduce inflammation, enhance the power of Vitamin C, protect blood vessels from ruptures, and reduce oxidative damage.
Enerex Reishi Defense uses only top quality whole-plant Red Reishi Mushroom at a ratio of 50:1, 15% Polysaccharides, 2500 mg DHE for its increased benefits.
Each Softgel Contains/Medicinal Ingredients
Ganoderma Lucidum
   (Reishi Mushroom 50:1, 15% Polysaccharides, 2500 mg DHE*) Whole Plant
50 mg
Vitamin D3

 

(Cholecalciferol) 1000 IU
25 mcg
Vitamin C

 

(Ascorbic Acid)
200 mg
Citrus Bioflavonoids

 

(Citrus aurantium) Fruit
200 mg
---
Non-Medicinal Ingredients: Organic olive oil, unbleached lecithin (non-GMO), beeswax; softgel: gelatin, glycerin, water.
There are no other ingredients added to this formula.
*Dried Herb Equivalent.
ADULTS: Take 1 softgel daily with food or as directed by a health care practitioner.
Consult a healthcare practitioner prior to use if you are taking any prescription medication, blood thinners, or if you are pregnant or breastfeeding.
Store in a cool, dry place. Keep out of reach of children.
Couldn't load pickup availability