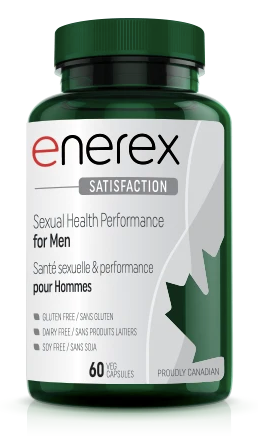 Enerex Satisfaction
Enerex Satisfaction
Regular price

Sale price

$32.99
Enerex Satisfaction
Put More Zip in Your Libido
When your libido is down, perk it up with SATISFACTION. This product helps get you in the mood, boost performance, build endurance, and heat up the experience. Using a blend of traditional and Ayurvedic botanicals with specific vitamins, this formula works to improve sexual desire & performance, reinforce and enhance physical strength and capacity while also addressing sexual health.
Sexual Health and Performance for Men
Now you can heighten the sexual experience and safeguard your health, too. SATISFACTION takes a direct approach to help with sexual performance while also working to support the reproductive system to achieve and maintain a healthy sex life.
Enerex SATISFACTION for Men includes:
Horny Goat Weed

 

was used by Chinese emperors to strengthen the "yang" male life force. Medical studies show that it improves libido. (

 

Journal of Impotence Research, 2006)
Korean Ginseng

 

has ginsenosides that increase blood flow to the penis to improve sexual stamina and stimulate performance. (

 

Journal of Impotence Research, 2013)
Damiana

 

is a Mayan aphrodisiac and energy stimulator.

 

Studies reveal its effects on performance; it also has an anti-anxiety effect that improves sex. (Journal of Ethnopharmacology,

 

2013).
Ginkgo biloba

 

improves sexual function and SATISFACTION through increased blood flow. It boosts libido and improves ED, even in those taking anti-depressant drugs. (J Sex & Marital Ther., 1998) (

 

in Therapy

 

2000)
Maca

 

has a regulating effect on testosterone, progesterone, and estrogen, which increases libido. It's also effective for ED and low sperm count. (CNS Neurosci Ther. 2008)
Puncturevine

 

is a "pro-erectile aphrodisiac" due to "increasing androgen and subsequent release of nitric oxide from the penal nerve endings." (J Alternative and Comp. Med. 2003)
Saw Palmetto

 

supports a healthy prostate, which affects ejaculation, strengthens sexual desire, and affects (Phytother Res.

 

2012)
Velvet Bean

 

has a naturally occurring source of L-Dopa, the precursor to dopamine (the brain's pleasure neurotransmitter), which increases desire and performance (Pharmacologyonline 2010)
Green Tea

 

contains antioxidants and increases prostate health.
L-Arginine

 

is an amino acid that the body uses to produce nitric oxide – the primary physical helper responsible for men's arousal (BJU Int.

 

1999)
Zinc

 

plays a role in prostate health and sexual development
Vitamin B:

 

B3 helps make sex hormones and increase blood flow to the genitals and skin. B6 enhances libido by controlling elevated prolactin (prolactin reduces sexual arousal); B12 enhances penile erection by enlarging blood vessels.
Each Vegetarian Capsule Contains:
L-Arginine
120 mg
Horny Goat Weed (Epimedium brevicornu, 20:1, 1200 mg DHE*) Leaf
60 mg
Korean Ginseng (Panax ginseng, 5:1, 250 mg DHE*) Root
50 mg
Maca

 

(Lepidium meyenii, 30:1, 1500 mg DHE*) Root
50 mg
Saw Palmetto

 

(Serenoa repens, 4:1, 200 mg DHE*) Fruit
50 mg
Damiana

 

(Turnera diffusa, 20:1, 1000 mg DHE*) Leaf 
50 mg
Niacin

 

(Vitamin B3) Nicotinic Acid
50 mg
Vitamin B6

 

(Pyridoxine HCl) 
50 mg
Ginkgo

 

(Ginkgo biloba, 50:1, 2000 mg DHE*) Leaf
   Standardized to 24% Flavonoid Glycosides & 6% Terpene Lactones
40 mg
Velvet Bean (Cowage)

 

(Mucuna pruriens, 10:1, 300 mg DHE*) Seed
30 mg
Puncture Vine (Tribulus terrestris, 4:1, 80 mg DHE*) Fruit
20 mg
Green Tea Extract

 

(Camellia sinensis) Leaf
   Standardized to >85% Catechins & <2.9% Caffeine
15 mg
Zinc

 

(Citrate)
15 mg
Vitamin B12

 

(Cyanocobalamin) 
500 mcg
Folate

 

(Vitamin B9) Folic Acid
100 mcg
---
Non-Medicinal Ingredients: Brown rice flour, vegetable magnesium stearate, hypromellose (vegetarian cellulose-complex capsule). *Dried Herb Equivalent
DIRECTION OF USE
ADULTS (19+): Take 2 capsules once daily with food or as directed by a health care practitioner. Take a few hours before or after taking other medications.
Consult a health care practitioner for use beyond 3 months or prior to use to exclude a diagnosis of prostate cancer, or if you have an iron deficiency, diabetes, a liver disorder, or develop symptoms of liver trouble (abdominal pain, dark urine, or jaundice); or if you are taking antidepressant medications, blood thinners, digoxin, or medications for diabetes, high blood pressure, or seizures. Store in a cool, dry place. Keep out of reach of children.
Couldn't load pickup availability