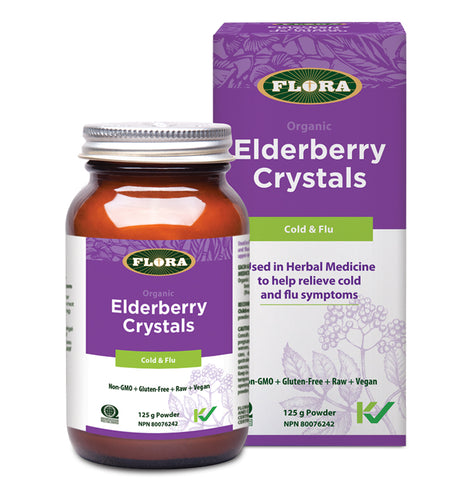 Flora Elderberry Crystals
Flora Elderberry Crystals
Regular price

$23.99

Sale price

$19.99
Flora Elderberry Crystals
Top up your health with Flora Elderberry Crystals!
Looking for relief from cold & flu symptoms? Add delicious Flora Elderberry Crystals to the mix. Blend them in with your favourite juice or smoothie for a healthful, convenient and delicious boost daily, or when you feel the symptoms of seasonal issues coming on.
Gluten-Free + Non-GMO + Organic + Vegan
Description: During the fall and winter months, Europeans often drink elderberry syrups, wines and juices to help them stay healthy. Wild-grown elderberries have been used therapeutically for 2,500 years by Roman and Italian physicians to strengthen the immune system, detoxify the body and boost energy.
These delicious elderberry crystals have been made from fresh-pressed juice. Only ripe berries are selected and they are double-cooked in order to ensure safety. The juice is then vacuum dried to remove the water without the use of heat in order to maximize their retained nutrient and antioxidant content.
FLORAdvantage: • Certified organic • Bottled in glass • 1 g powder = 16 g fresh elderberry fruit • Vacuum dehydrated • Made in France from European elderberries • Standardized to 2.5% anthocyanins • Gluten free, Non-GMO, Vegan, Kosher
Ingredients and Dosage/Directions: MEDICINAL INGREDIENTS: Each Gram Contains: Organic European elder berry (Sambucus nigra) juice, powdered . . . . . . . . . . . . . . . . . . . . . . 1 g (from 10g fresh juice, equivalent to 16 g fresh fruit) RECOMMENDED DOSE: 1 heaping scoop = 1.25 g Adults: Dissolve 5 g (4 heaping scoops) powder in water or other beverages. Take once daily. Children 5 years+: As a diaphoretic and/or for relief of cold and flu symptoms: Dissolve 1.25 g (1 heaping scoop) powder in water or other beverages.
Take once daily. Please refer to label for list of cautions.
Couldn't load pickup availability