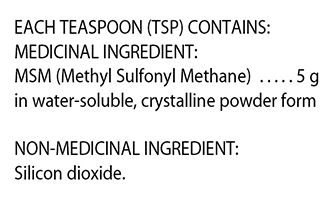 Flora MSM – Powder
Flora MSM – Powder
Regular price

$19.99

Sale price

$15.99
Flora MSM – Powder
Looking for a natural solution to ongoing osteoarthritic pain? Many sufferers think they either have to live with it, or resort to non-steroidal anti-inflammatory drugs (NSAIDs). Thankfully, Methyl sulfonyl methane (MSM) provides an alternative, and has been proven to help relieve joint pain associated with osteoarthritis. Flora MSM Methyl Sulfonyl Methane supplies biologically active sulphur in a safe, non-toxic way, and can be taken daily.
 NPN 80003696
NPN Claim:
Helps to relieve osteoarthritic pain. Helps to relieve joint pain associated with osteoarthritis. Helps to relieve the pain associated with osteoarthritis of the knee
Suggested Use
Blend 1/4 tsp (1.25 g) of powder in a glass of water or juice. Stir until completely dissolved. Take 3 times daily with food. Avoid taking at bedtime. Use for a minimum of 4 weeks to see beneficial effects.
Couldn't load pickup availability