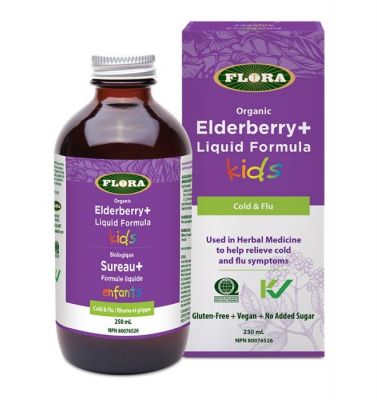 Flora SambuGuard Elderberry+ Liquid Kids Formuala
Flora SambuGuard Elderberry+ Liquid Kids Formuala
Regular price

Sale price

$17.99
Flora SambuGuard Elderberry+ Liquid 
Natural
Organic
Vegan
Gluten
Free
Non-GMO
No added colour, sugar, emulsifier, thickener or excipients
Echinacea and licorice extracted on-site by Flora
Elderberry juice vacuum-dehydrated to crystals then added to formula
Delicious, comprehensive formula for cold and flu symptoms
Specially formulated with children in mind, Elderberry+ Liquid Formula Kids is intended as a first line of defense against respiratory infections before they invade the home. A must-have for every medicine cabinet, Elderberry+ Liquid Formula Kids is a powerful combination of three potent immune-boosting ingredients in a delicious herbal syrup. These include elderberry juice, Echinacea purpurea and licorice root. It is most effective when taken at the first sign of a cold to prevent symptoms from becoming full-blown. Elderberry+ Liquid Formula Kids will ease initial symptoms like sore throat and fatigue, act on a deeper level to attack the invading infection, support the immune system to stop it from spreading, and reduce the overall severity and duration of the infection.
Ingredients:
Each Tablespoon (15 mL) provides:
Medicinal Ingredients:
Organic European elder (Sambucus nigra) berry juice powdered . . . . . . . . 345 mg
(from 3.4 g fresh berry juice, equivalent to 5.5 g fresh ripe berry or 1.1 g dried ripe berry)
Organic Echinacea purpurea herb top (1:75) . . . . . . . . . 200 mg
Organic Licorice (Glycyrrhiza glabra) root (1:300) . . . . . . 50 mg

Non-Medicinal Ingredients:
Water, organic stevia leaf and organic natural flavour
Directions:
Children 5-9 years old: Take at the first sign of infection. Take 1 tablespoon (15 mL), three times daily.
Couldn't load pickup availability