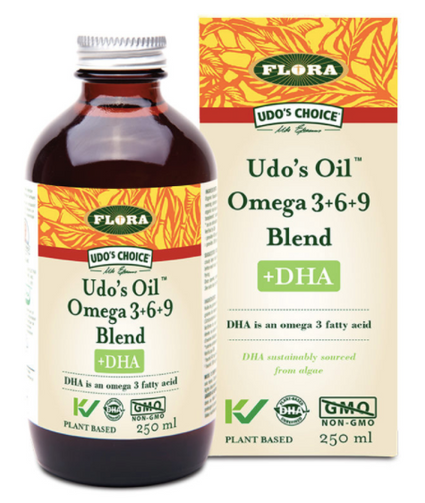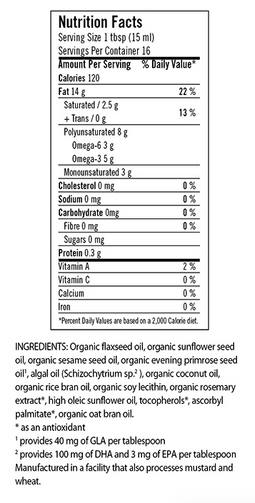 Flora Udo's Oil® Omega 3•6•9 Blend +DHA
Flora Udo's Oil® Omega 3•6•9 Blend +DHA
Regular price

Sale price

$20.99
Flora Udo's Oil® Omega 3•6•9 Blend +DHA
Description
Soak up the benefits of DHA with Udo's Oil™ Omega 3•6•9 Blend +DHA. It combines DHA-rich algae—from unrefined, sustainably-sourced algae, rather than fish—with Udo's unique oil blend of omega-3 and omega-6 essential fatty acids in a balanced 2 to 1 ratio. DHA supports the proper functioning of our brains as adults and supports the development of the nervous system in children.
Contains organic unrefined seed oils from flax, sunflower, sesame, and evening primrose along with organic coconut, rice bran, and oat bran oils, organic soy lecithin, and non-GMO mixed tocopherols
Freshly-pressed, organic, and unrefined
Expeller-pressed in low heat, light, and oxygen-free environment and thoughtfully packaged in brown glass, nitrogen-flushed, and stored in a box for further protection
Kosher + Non-GMO + Organic + Vegetarian + Keto-Friendly
Consume one tablespoon 1–3 times daily with meals. The cloudy layer and globules in the oil are unique to this blend. Shake bottle gently before each use.
To maximize stability, nutritional value, and freshness, Flora developed its own state-of-the-art process to mechanically press seed oils in a low-heat, light-free and oxygen-free environment. This unique Flora blend also contains unrefined, algae oil extracted without hexane for its DHA and EPA content.
For optimal freshness, KEEP REFRIGERATED. Do not heat or use for frying. Once opened, consume within 8 weeks. Can be frozen to prolong shelf life.
Couldn't load pickup availability