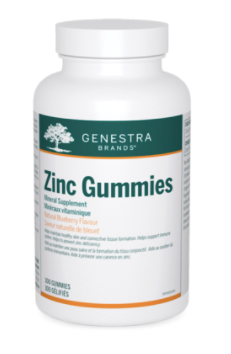 Genestra Zinc Gummies
Genestra Zinc Gummies
Regular price

Sale price

$28.99
Genestra Zinc Gummies
Zinc Gummies feature 12 mg of elemental zinc as zinc citrate per gummy and are suitable for ages 4 and up as a delicious option to help meet daily zinc requirements.

Zinc is an important trace element in the body, it plays a key role in maintaining immune health by stimulating the production of immune cells, regulating natural killer cell activity and mediating cytokine production. Additionally, zinc has a role in maintaining hair and nail health, and maintains bone health by regulating bone formation and resorption. With just one gummy daily, this formula helps prevent zinc deficiency and supports the immune system. Zinc Gummies are ideal for anyone 4 years and older who have difficulty or dislike swallowing capsules.
Features:
Great-tasting, zinc gummy with an organic fruit blend
Provides 12 mg of zinc citrate per gummy
Helps to maintain and support immune function
Contains no artificial colours or flavours, and is low in sugar – less than 0.5 g total sugars per gummy
Delicious natural blueberry flavour
Recommended Dose:
Adults and Adolescents (14 years and older): Take1 gummy 1 to 2 times daily. Adolescents and Children (4-13 years old): Take 1 gummy daily. Take with meals, a few hours before or after taking other medications or natural health products, or as recommended by your healthcare practitioner.
Medicinal Ingredient:
 Zinc 12mg
Non-Medicinal Ingredients:
 Blueberry flavour, Cane sugar, Carnauba Wax, Citric acid, Fruit Blend, Glycerin, Hyprolose, Isomaltooligosaccharides, Medium chain triglycerides, Pectin, Purified water, Sodium citrate, Sorbitol, Stevia leaf extract, Sunflower Oil
Caution:
 Zinc supplementation can cause a copper defi¬ciency. Consult your healthcare practitioner prior to use if you are unsure whether you are taking enough copper.
Couldn't load pickup availability