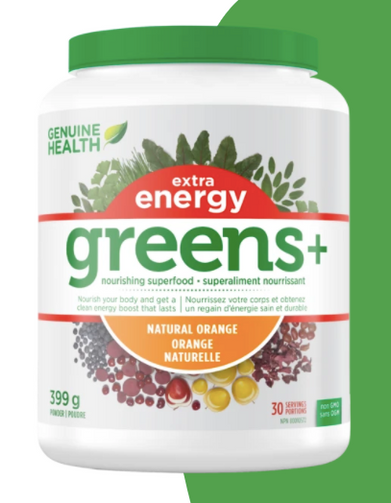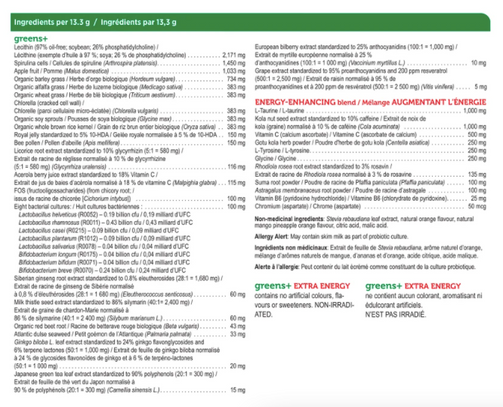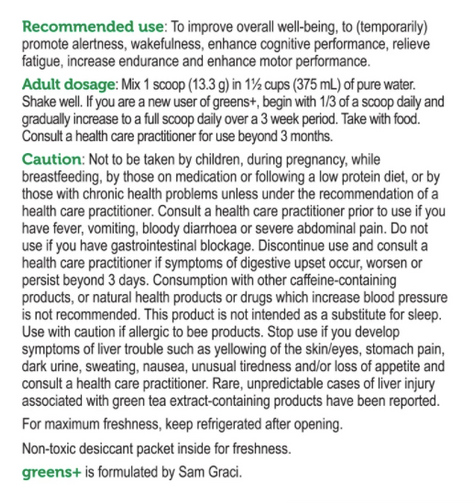 Genuine Health greens+ extra energy | natural orange
Genuine Health greens+ extra energy | natural orange
Regular price

Sale price

$79.99
Genuine Health greens+ extra energy | natural orange
greens+ extra energy gives you more energy to do what you love to do. Made with energy-boosting herbs, plants, vitamins, amino acids, and minerals. Try it instead of coffee, before a workout, or for an afternoon boost!

What's In It:
10 superfoods
3 sea vegetables
3 chlorophyll-rich grasses
7 energizing herbs
11 energy-enhancing vitamins, minerals, amino acids including taurine and adaptogenic herbs
Easy to Fit in Your Routine
Just one scoop per day for lasting energy with no crash!
Shake with water or add to smoothies
Diet-Friendly
greens+ extra energy works with nearly every lifestyle and way of eating. Keto & Paleo-friendly.
Helpful Tips & Directions
To improve overall well-being, to (temporarily) promote alertness, wakefulness, enhance cognitive performance, relieve fatigue, increase endurance and enhance motor performance.
Adult Dosage: Mix 1 scoop (13.3 g) in 1½ cups (375 mL) of pure water. Shake well. If you are a new user of greens+, begin with 1/3 of a scoop daily and gradually increase to a full scoop daily over a 3 week period. Take with food. Consult a health care practitioner for use beyond 3 months.
greens+ extra energy contains no artificial colours, flavours or sweeteners. NON-IRRADIATED.
Caution: Not to be taken by children, during pregnancy, while breastfeeding, by those on medication or following a low protein diet, or by those with chronic health problems unless under the recommendation of a health care practitioner. Consult a health care practitioner prior to use if you have fever, vomiting, bloody diarrhoea or severe abdominal pain. Do not use if you have a gastrointestinal blockage. Discontinue use and consult a health care practitioner if symptoms of digestive upset occur, worsen or persist beyond 3 days. Consumption of other caffeine-containing products, or natural health products or drugs which increase blood pressure is not recommended. This product is not intended as a substitute for sleep. Use with caution if allergic to bee products.
For maximum freshness, keep refrigerated after opening.
The non-toxic desiccant packet inside for freshness.
Couldn't load pickup availability