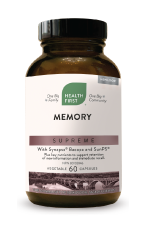 Health First Memory Supreme
Health First Memory Supreme
Regular price

Sale price

$49.99
Health First Memory Supreme
Memory Supreme was formulated for all adults, whether they are studying for exams, juggling a heavy workload or trying to maintain tip top mental acuity at any age. Memory Supreme supports all aspects of cognitive health by helping to improve memory and recall while achieving a calm, balanced state of mind.
INGREDIENTS
Synapsa®
Bacopa has been used for centuries in Ayurvedic medicine to sharpen intellect in both the young and the old.
Synapsa® is a patented bacopa extract that has been clinically shown to improve working memory and immediate recall in adults after 6 weeks of use.
In trials, Synapsa® also helped to improve mental performance in areas such as visual processing, learning rate and information retention in cognitively demanding environments versus a placebo regimen.
Bacopa can increase levels of acetylcholine. Acetylcholine is found in all motor neurons and plays an important role in intellectual capacity and mental processess such as memory, learning, motivation, and REM sleep. It also helps to counteract our tendency toward fight or flight mode, allowing us to achieve a higher level of consciousness and improved attention and perception.
Bacopa may also increase serotonin and GABA in the brain, thus enhancing our mood and bringing about a state of calm. We all need to reduce stress while staying alert to keep up with our busy days!
SunPS® Phosphatidylserine (organic)
Phosphatidylserine is found in high amounts in the brain. It is a phospholipid and a major component of all cell membranes - and it's tricky to get adequate sources through our diet! Animal studies also suggest that phosphatidylserine levels in the brain decrease as we age.
Phosphatidylserine covers and protects the cells of our brain and carries messages between them.
Studies show that supplementing with phosphatidylserine may increase acetylcholine levels, and supplementing with even small amounts (60mg daily) can support a healthy stress response.
Citicoline
Citicoline is cytidine diphosphate choline, or CDP-choline, a nutrient that has been shown to support memory in patients with age-associated memory impairment and brain cell recovery from injuries such as stroke or concussion.
Citicoline increases the production of key neurotransmitters, including acetylcholine, norepinephrine, dopamine, and serotonin, all of which are essential for mood balance and memory.
Rather than just supplying a single phospholipid, citicoline boosts the brain's production of its own array of phospholipids, including phosphatidylserine (PS), phosphatidylcholine (PC), phosphatidylinositol (PI), and phosphatidylethanolamine (PE).
Phospholipids are fundamental in the synthesis of neurotransmitters and the proper functioning of neural cell membranes – both highly significant factors for healthy cognitive function.
Lion's Mane
May promote brain health and supports the immune system.
Studies show promise for its ability to potentially increase NGF (nerve growth factor).
Memory Supreme is formulated using lion's mane mycelium and fruiting bodies grown on gluten free, Canadian oats.
Magnesium Threonate
A bioavailable form of magnesium shown to cross the blood brain barrier and potentially help to improve working memory and attention.
There is continuing research on the ability of magnesium threonate to help reduce the effects of brain aging and improve brain communication via synaptic connections.
Rosemary
A potent antioxidant.
Complements the action of bacopa and citicoline.
Helps to prevent the breakdown of acetylcholine, which is critical for thinking, concentration and memory.
Helps to reduce free radicals.
Couldn't load pickup availability