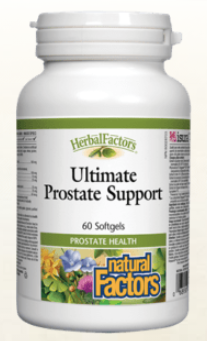 Natural Factors Herbal Factors HerbalFactors® Ultimate Prostate Support
Natural Factors Herbal Factors HerbalFactors® Ultimate Prostate Support
Regular price

Sale price

$35.99
HerbalFactors® Ultimate Prostate Support
Helps prevent or ease symptoms of prostate enlargement (also called BPH [Benign Prostatic Hyperplasia])
Improves urinary flow and may reduce nighttime urination frequency
Ideal for disease prevention strategy that includes exercise and a healthy diet
Supports urinary health and sexual function
Ultimate Prostate Support contains seven of the best-known herbs that support prostate health and function. Prostate enlargement (BPH) is very common among men over 40. It can interfere with urination and is a risk factor for prostate cancer. Ultimate Prostate Support helps ease symptoms including the need for frequent nighttime urination.
Medicinal Ingredients
Each softgel contains:


Saw Palmetto Extract (Serenoa repens) (fruit)
160 mg
(Standardized to 85–95% fatty acids)


Vegapure®

 

FS Phytosterols* (45% beta sitosterol)
100 mg
Nettle 10:1 Extract (Urtica dioica) (root)
75 mg
Turmeric Extract (Curcuma longa) (root)
25 mg
(Standardized to 95% curcuminoids)


Rye Flower Pollen 20:1 Extract (Secale cereale) (pollen)
25 mg
Pygeum africanum Extract
25 mg
LYC-O-MATO®

 

Tomato Extract


(Lycopersicon esculentum) (fruit)
1 mg
(Standardized to 6% lycopene)


*Vegapure®

 

FS plant sterols are a finely ground powder of naturally occurring phytosterols derived from plant origin.


Non-Medicinal Ingredients
Soybean oil, softgel (gelatin, glycerin, purified water, carob), yellow beeswax, lecithin.
Advanced Info
Natural Factors Ultimate Prostate Support is a combination of eight of the best-known and researched herbs to help promote prostate health. This unique combination helps reduce urinary difficulties related to prostate enlargement. It often improves sleep quality by reducing the need for frequent nighttime urination and may also support healthy erectile function.
Saw palmetto improves the metabolism of testosterone in the prostate, which helps improve all symptoms associated with benign prostatic hyperplasia (BPH). Pygeum africanum, lycopene, and beta sitosterol, a phytosterol similar to cholesterol, all provide powerful improvement of symptoms. Nettle is a mild anti-inflammatory, and modulates the stimulant effect of male sex hormones on prostate cells to improve BPH symptoms. A powerful anti-inflammatory and antioxidant, turmeric has been shown to slow prostate cell proliferation. Rye flower pollen extract improves urological symptoms, including nighttime urination.
Natural Factors Ultimate Prostate Support combines these powerful ingredients in one formula for the best in prostate support. Together, they offer relief from the symptoms of BPH, reducing urinary difficulties, improving sleep quality, and supporting healthy erectile function. The ingredients are standardized to guarantee purity and potency of key plant actives.
Couldn't load pickup availability