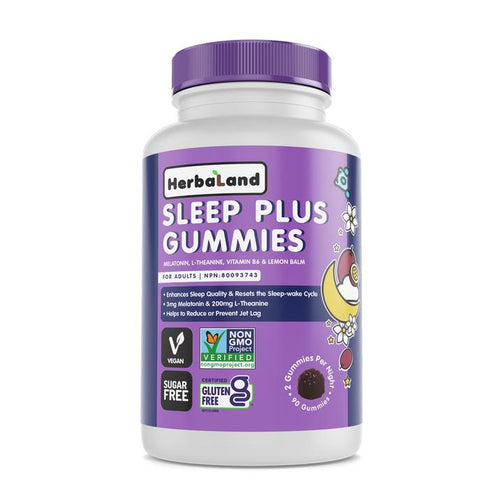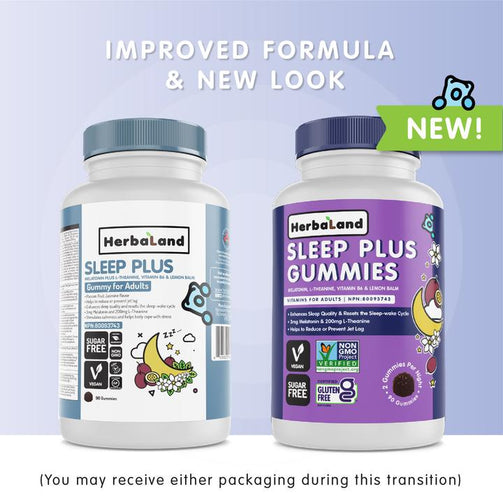 Herbaland Sleep Plus Gummies for Adults (Sugar Free)
Herbaland Sleep Plus Gummies for Adults (Sugar Free)
Regular price

Sale price

$20.99
Herbaland Sleep Plus Gummies for Adults (Sugar Free)
Formulated with L-Theanine which stimulates calmness and help the body cope with stress
Contains Vitamin B6 and Lemon Balm Extract to help maintain sleep quality and to reset the body's sleep-wake cycle

Improve your sleep quality with our delicious and sugar-free sleep gummies
Recommended Dose (Adults aged 18 and older): Take 2 gummies 1 time per day at or before bedtime. For Jet Lag: Take two gummies a day at bedtime, while traveling, and at destination until adapted to the new time zone/or daily pattern.
Do not drive or use machinery for 5 hours after taking melatonin. Consult a health care practitioner/health care provider/health care professional/doctor/physician for use beyond 4 weeks. Avoid taking with alcohol or products that increase drowsiness or have sedative properties.
Consult a healthcare practitioner prior to use if: You are taking medications for seizure, blood pressure, to suppress the immune system (immunosuppressive medications), to affect mental state or increase sedation, steroids or blood thinners. You have cardiovascular, immune, liver or chronic kidney disease, hormonal or seizure disorders, asthma, depression, diabetes, low blood sugar, or migraine. Symptoms persist or worsen. Sleeplessness persists continuously for more than 3 weeks (chronic insomnia).
Warning: Do not use this product if you are pregnant or breastfeeding. Stop use if allergy occurs or if you experience headache, confusion, or nausea. Some people may experience drowsiness. Exercise caution if operating heavy machinery, driving a motor vehicle or involved in activities requiring mental alertness.
Take only as directed. Do not exceed suggested dosage. Chew thoroughly before swallowing. Keep out of reach of children. Do not use if the safety seal is broken or missing.
Store in cool & dry area, away from direct light.
Couldn't load pickup availability