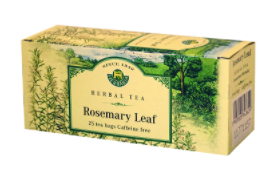 Herbaria Rosemary Leaf Tea
Herbaria Rosemary Leaf Tea
Regular price

Sale price

$4.99
Rosemary Leaf Tea
Rosemary is an aromatic herb found abundantly throughout the Mediterranean region, its native habitat. Used commonly in cooking, it also boasts a long history of use in herbal medicine.
Rosemary offers a rich source of antioxidants and anti-inflammatory components, which may play an important role in the maintenance of good health. It has long been used to ease cases of indigestion. Furthermore, it may offer cognitive benefits – including improved memory, concentration, and neurological protection against free radical damage. It is also known to promote eye health.
Potential Benefits 
 A rich source of antioxidants
– May ease indigestion
– May offer cognitive benefit (memory, concentration, and protection)
– May reduce age-related macular degeneration
For educational purposes only. This information has not been evaluated by the Food and Drug Administration. 
This information is not intended to diagnose, treat, cure, or prevent any disease.
Brewing Instructions 
Add boiling water over the bag
Let steep for 4 to 6min
If desired sweeten with honey
Store box in a cool dry place
Couldn't load pickup availability