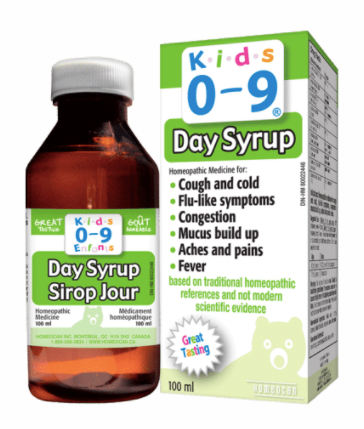 Homeocan 0-9 Day Syrup
Homeocan 0-9 Day Syrup
Regular price

Sale price

$11.99
Homeocan 0-9 Day Syrup
Kids 0-9 Day Syrup for your child's cold and flu-like symptoms
Homeopathic medicine for:
- cough and cold
- flu-like symptoms
- congestion
- mucus build-up
- aches and pains
- fever
Format : 100 ml or 250 ml Bottle
We recommend you to give these remedies in addition to traditional medical treatment. Homeopathy can not replace a treatment prescribed by a professional.
Medicinal ingredients:
– Drosera rotundifolia 1CH (Sundew)
– Arnica montana 3CH (Leopard's bane)
– Bryonia alba 3CH (White bryony)
– Ipecacuanha 3CH (Ipecac)
– Cetraria islandica 1CH (Iceland moss)
– Belladonna 3CH (Deadly nightshade)
– Coccus cacti 3CH (Cochineal)
– Stannum metallicum 3CH (Tin)
Non-medicinal ingredients:
– Purified water
– Sorbitol
– Caramel
– Sodium benzoate
– Potassium sorbate
– Citric acid
Children 0 to 6 years of age : 1/2 teaspoon, every 4 hours
Children 7 to 9 years of age : 1 teaspoon, every 4 hours
– Reduce with improvement or as directed by a healthcare practitioner.
– To be taken away from meals.
Cautions
– Do not use if seal is broken.
– Consult a healthcare practitioner if symptoms worsen or in cases of high fever or if symptoms persist beyond 5 days.
– Do not exceed recommended dosage.
– Keep out of reach of children.
– Keep at room temperature.
– Based on traditional homeopathic references and not modern scientific evidence.
Couldn't load pickup availability