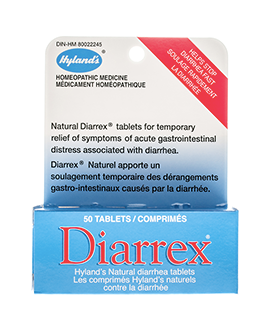 Hyland's Diarrex
Hyland's Diarrex
Regular price

Sale price

$0.00
Hyland's Diarrex
Have you ever been traveling and not been able to enjoy the trip because rather than seeing the sights you're just looking for the next bathroom? Well, if you are on the road or at home, Hyland's Diarrex™ offers all-natural relief for the not-so-pleasant effects of diarrhea.*  Hyland's Diarrex™ has no known contraindications or side effects.
Drug Facts
Indications: Homeopathic medicine for the temporary relief of acute gastrointestinal distress associated with nonspecific diarrhea.
Medicinal Ingredients:
Arsenicum Album 6X HPUS: for dark, offensive stool
Podophyllum Pelt. 6X HPUS: for profuse, watery stool
Chamomilla 6X HPUS: for hot, green, watery stool
Phosphorus 6X HPUS: for painless, copious, involuntary diarrhea
Mercurius Viv 30X HPUS: for greenish, slimy painful stool
"HPUS" indicates the active ingredients are in the official Homeopathic Pharmacopoeia of the United States.
Non-Medicinal Ingredients: Acacia Gum, Lactose N.F.
Warnings:
Do not use if the imprinted band is broken or missing. Keep this and all medications out of reach of children. If symptoms persist for more than seven days or worsen, contact a licensed health care professional. Discontinue use if diarrhea is accompanied by a high fever (greater than 101°F), or if blood is present in the stool, and contact a licensed health care professional.  
In case of emergency, the manufacturer may be contacted 24 hours a day, 7 days a week at 800-624-9659.
Directions
Adults and Children 12 and over: Dissolve 2-3 tablets under tongue every 4 hours or as needed.
Children 3 years to 11 years: Dissolve 1-2 tablets under tongue, every 4 hours or as needed.
Couldn't load pickup availability