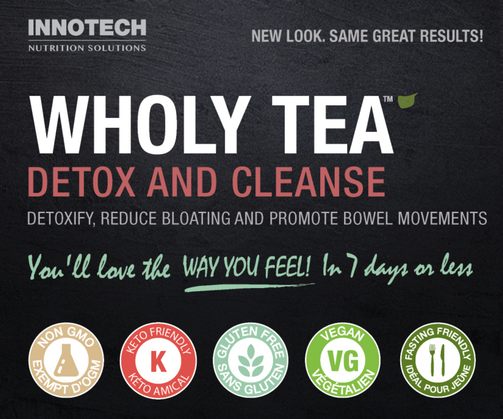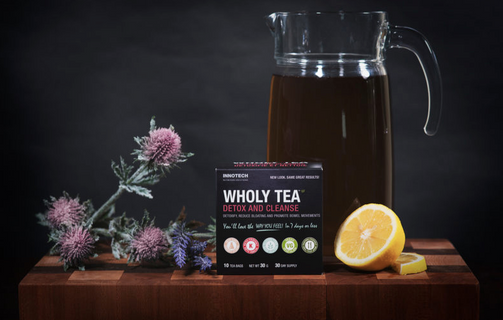 Innotech Wholy Tea Detox and Cleanse 30 Day Supply
Innotech Wholy Tea Detox and Cleanse 30 Day Supply
Regular price

Sale price

$35.99
Innotech Wholy Tea Detox and Cleanse 30 Day Supply
Recommended Use and Purpose: Traditionally used in Herbal Medicine as a stimulant laxative, for short-term relief of occasional constipation and to promote(s) bowel movement (by direct action on the large intestine). Aloe vera inner leaf provides antioxidants.
Why Drink Wholy Tea™ Detox & Cleanse?
Our environment contains more toxic chemicals than ever before which can lead to an overload of toxins in your body. Pesticides, air pollution and many other toxic chemicals end up in our water, soil and ultimately our food supply which are linked to health issues like gas, bloating, constipation, fatigue, headaches, body odour, skin irritation, poor microbiome health and sleeplessness.
The New Wholy Tea™ Detox & Cleanse Contains Milk Thistle Seed, Blessed Thistle, Dandelion Root, Marshmallow Root, Senna, Cascara, Turmeric, Aloe Leaf Gel, Ginger Root. These ingredients can help support your natural ability to cleanse by counteracting the accumulation of toxins and waste – to name a few benefits.
Keep Your Body Functioning at It's Best
Our kidneys and liver do the majority of blood cleansing work along with the breakdown and neutralization of toxins/waste. The herbs in Wholy Tea™ Detox & Cleanse support the natural detoxification process with their diuretic effects and promotion of elimination. Chronic stress, poor diets, ageing, increased exposure to toxins and refined foods all take their toll on your liver and kidneys. They need some support. Cleansing herbs help your body to draw out, breakdown and eliminate wastes and toxins to help keep your body functioning at it's best.
Important! Wholy Tea must be steeped for 6-8 hours….
Bring 1.5 litres of filtered water to a full rolling boil, turn off the stove, put one tea bag in, cover, and let STEEP
for 6-8 hours. (1 Tea Bag will last 3 days if you drink 2 cups per day) This brings the herbs to full potency. Refrigerate and it is ready to drink. Many people like to drink one glass of tea in the morning and one glass of tea at night or with your evening meal. You may drink more when you feel your body wants it.
Other Products that Complement Wholy Tea:
Fermented Pro-biotic Foods like Sauerkraut or Wholy Biosa, a fermented liquid pro-biotic that contains 10 strains of bacteria that work together to establish gut flora. Detox 101 with Humic & Fulvic acid in a concentrated liquid form helps cleanse the liver and alkalize the body. Healthy fibre products like Vida Grains which contain multiple varieties of healthy seeds are a source of fibre and typically are low in fat. Fibre-rich foods can help people feel full and satisfied.
You'll Love The Way You Feel!
Couldn't load pickup availability