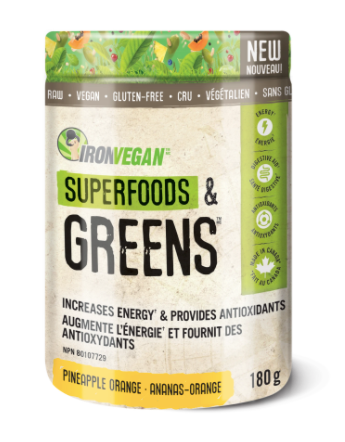 Iron Vegan Superfoods & Greens
Iron Vegan Superfoods & Greens
Regular price

$42.99

Sale price

$32.99
Iron Vegan Superfoods & Greens
Iron Vegan Superfoods & Greens contains real food ingredients like fruits, vegetables, organic mushrooms, sprouted grains, seeds, and more. Support an active lifestyle and nourish your body using the power of superfoods and greens!
Key Features
Increase energy​
Antioxidant support ​
Digestive aid
Organic Mushrooms & Fermented sprouted grains and seeds
Land & Sea vegetables
Gluten free, raw, vegan
Caffeine-free
Medicinal Ingredients:​
Ginger root 4:1
75mg​
Pineapple fruit powder
5mg​
Papaya fruit powder
5mg​
Jerusalem artichoke root powder
100mg​
Organic reishi mushroom extract 10:1
150mg​
Organic lions mane powder
325mg​
Organic chaga powder
300mg​
Organic fermented sprouted blend (millet sprout, amaranth sprout, pumpkin sprout, quinoa sprout)
200mg​
Organic kale powder
200mg​
Organic spinach powder
300mg​
Organic alfafa
500mg​
Organic spirulina powder
500mg​
Organic broccoli powder
250mg​
Chlorella powder
250mg
Turmeric (20:1)DHE: 1000mg
50mg ​
Tart cherry fruit concentrate.4:1
25mg​
Organic beet root powder
100mg​
Pomegranate fruit extract 4:1
25mg​
Organic blueberry extract 10:1
10mg​
Non-Medicinal Ingredients: Acacia Gum, Natural Flavours, Guar Gum, Citric acid, DL-Malic acid, Coconut Water, Himalayan pink salt (Sodium chloride), Stevia Leaf extract, monk fruit extract​
Suggested Dose (Adults): Add 1 scoop (5g) to 250ml of cold water once per day. ​​
Cautions: Cautions: Do not use this product if you are pregnant, breastfeeding or have a history of systemic lupus erythematosus. Consult a health care practitioner prior to use if you have gallstones, a bile duct obstruction, stomach ulcers or excess stomach acid, undergoing hormone replacement therapy (HRT) or taking blood thinners or birth control medication. Consult a health care practitioner if symptoms persist or worsen. Stop use if hypersensitivity/allergy occurs.
Couldn't load pickup availability