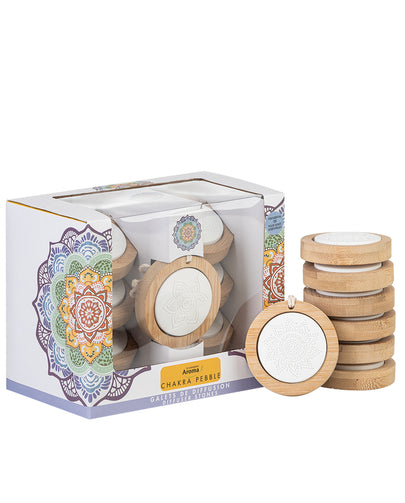 La Aroma Comptoir Chakra Pebble
La Aroma Comptoir Chakra Pebble
Regular price

Sale price

$29.99
La Aroma Comptoir Chakra Pebble
Box of 7 diffuser stones for essential oils
Diffusion duration up to 2 hours
Diffusion coverage up to 215 sq.ft
Eco-responsible : 100% natural bamboo and plaster
WHAT IS IT?
A wonderful portable and convenient diffuser solution! Easy to use, just place a few drops of essential oil of your choice onto the plaster center of the disk. Leave it to dry for a few seconds and enjoy the scent of your favorite oils wherever you want!
WHY USE IT?
100% natural, made of natural bamboo and plaster. Small and practical, they allow you to enjoy essential oils whenever and wherever you want! It is so versatile and can replace artificial fresheners in drawers, closets, gym bags, cars and offices.
Place the diffuser stones on a fat surface.
Pour 5 to 10 drops of essential oils onto the plaster part.
Avoid dropping essential oils on the natural bamboo part to avoid staining the diffuser stones.
It is possible to mix all the essential oils of your choice with our diffuser stones to create your own personal composition with 5 to 10 drops in total, with a renewal as soon as necessary.
We recommend to use these diffuser stones to scent small places, such as drawers, storage boxes, cabinets, a trash can, or even your car.
Leave a few minutes before placing the diffuser stones in the desired place. The diffuser stones need time to absorb correctly the essential oils.
MAINTENANCE
We advise you to regularly clean the diffuser stones to keep them in good condition and functional.
After using the unit 5-6 times, or 2-3 days, or if you want to change the oil, clean as follows:
Mix water with white vinegar and gently rub the plaster.
Rinse well.
Let dry and renew as needed.
If you do not use the diffuser stones for a long time, remember to clean them because essential oils may solidify and altering their operation.
PRECAUTIONS
Please read and carefully follow the following safety precautions before using these diffuser stones. These precautions are meant to prevent injuries and damage. May cause serious personal injury.
Children shall not play with the diffuser stones.
Use in an environment between 10°C and 30°C (= between 50°F to 85°F).
Avoid any contact between plaster with oils and fabric or furniture.
Avoid the plaster part containing essential oils coming into contact with the skin, the eyes or the mouth.
Do not heat the diffuser stones.
Avoid hitting the diffuser stones.
Do not use chemical products (such as acids, alkaline, etc.) or any corrosive detergents to clean the diffuser stones.
WARNING: May damage the diffuser stones:
Do not pour liquids or foreign products on the diffuser stones.
Continuous use of the diffuser stone can, in the long term, damage the product and shorten its life.
For optimal function, use only pure essential oils.
Never attempt to repair the product.
Do not put the diffuser stones in the dishwasher.
Do not use detergents.
Keep the diffuser stones away from :
direct sunlight, heat sources and wet or dusty places,
unstable surfaces.
The manufacturer is not responsible for any physical damages caused by the improper use of this device.
Couldn't load pickup availability