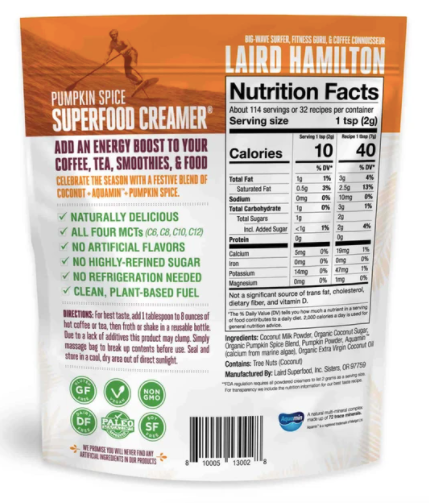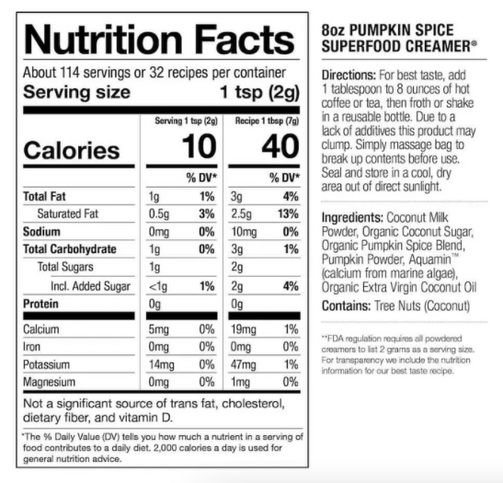 Laird Pumpkin Spice Superfood Creamer
Laird Pumpkin Spice Superfood Creamer
Regular price

Sale price

$18.99
Laird Pumpkin Spice Superfood Creamer
Pumpkin Spice Superfood Creamer gives you the festive flavor you love with absolutely no artificial ingredients.
Our Pumpkin Spice Superfood Creamer combines our Original Superfood Creamer with real pumpkin and festive spices for a pumpkin spice latte you can enjoy, guilt-free! It's plant-based, made with nourishing ingredients, and totally delicious, so you can celebrate pumpkin spice season the superfood way! This festive blend is a perfect boost for your coffee, tea, smoothies, and more.

LIMITED EDITION
There are so many reasons to celebrate the season with a nourishing blend of coconut + Aquamin + pumpkin spice.
Delicious
Real ingredients
Plant-based
No artificial flavors
No highly-refined sugar
No refrigeration needed
For creamiest flavor add 1 heaping tablespoon to 8 ounces of hot coffee or tea. Stir, power-froth, or blend until creamy!
You can choose to add more creamer to amplify flavor and creaminess. We also recommend adding a tablespoon or two to smoothies or oatmeal for a superfood boost. It's also great for baking (check out our recipes below).

*FDA mandated serving size is 1tsp (2g).
You'll taste the rich and creamy flavor of our best-selling Original Superfood Creamer along with the festive combination of real pumpkin and our special pumpkin spice blend. Finished with the perfect touch of sweetness from organic coconut sugar, this pumpkin spice blend offers a perfectly sweet and spicy flavor that is sure to delight.
Coconut Milk Powder -Coconut Milk is an ideal substitute to traditional milk, and we are just beginning to understand all the benefits it offers from a nutritional perspective. Coconut Milk Powder is simply evaporated coconut milk and is a great shelf-stable ingredient in many of Laird Superfood's products!
Organic Coconut Sugar - A low-glycemic alternative that contains more beneficial minerals than traditional cane sugar.
Organic Extra Virgin Coconut Oil - Efficient source of energy due to the naturally occurring full range of MCTs.
Pumpkin Powder - An all-natural, delicious base for select seasonal products. Good source of fiber and potassium.
Pumpkin Spice blend - Our custom pumpkin spice blend adds flavor and spice to this seasonal item.
Aquamin - Aquamin is a unique marine multi-mineral complex that is naturally rich in calcium and 72 other minerals in trace amounts. This ingredient is sustainably harvested off the coast of Ireland.
Couldn't load pickup availability