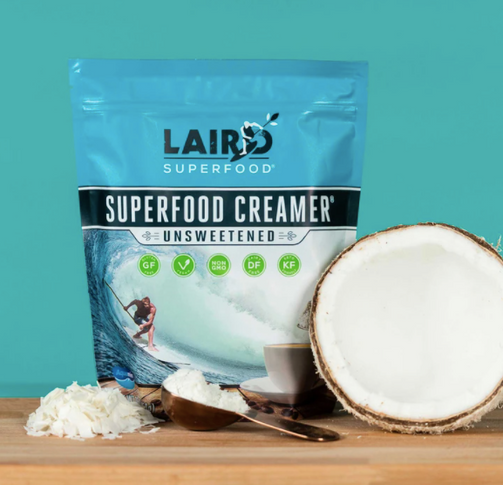 Laird Unsweetened Superfood Creamer®
Laird Unsweetened Superfood Creamer®
Regular price

Sale price

$18.99
Laird Unsweetened Superfood Creamer®
The Superfood Creamer you know and love, without any of the added sugar.
Laird Superfood Creamers are crafted from the highest quality all-natural whole-food ingredients. All of our products are sustainably sourced and thoroughly tested to ensure that you're incorporating the cleanest, finest fuel into your routine.
If you're living a keto lifestyle and looking for a delicious keto creamer, this is the one for you. While all of our creamers are keto-friendly, this creamer has no added sugar and has a base of coconut milk powder and coconut oil.
Add 1 tablespoon to your beverage of choice, or mix to taste.
Customers love this product in oatmeal and smoothies, too!
*FDA mandated serving size is 1tsp (2g).
Delicious and creamy, with a subtle hint of coconut and absolutely no added sugar. This creamer adds a light and aromatic flavor to your morning cup.
Coconut Milk Powder -Coconut Milk is an ideal substitute to traditional milk, and we are just beginning to understand all the benefits it offers from a nutritional perspective. Coconut Milk Powder is simply evaporated coconut milk and is a great shelf-stable ingredient in many of Laird Superfood's products!
Organic Extra Virgin Coconut Oil - Efficient source of energy due to the naturally occurring full range of MCTs.
Aquamin - Aquamin is a unique marine multi-mineral complex that is naturally rich in calcium and 72 other minerals in trace amounts. This ingredient is sustainably harvested off the coast of Ireland.
Couldn't load pickup availability