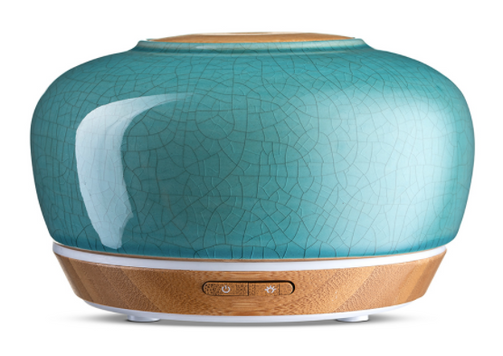 Le Comptoir Aroma Curaçao Diffuser
Le Comptoir Aroma Curaçao Diffuser
Regular price

Sale price

$85.99
Le Comptoir Aroma Curaçao Diffuser
Water tank capacity: 300 mL
Diffusion duration: 8 hours continuous mist mode
Timer: 1 hour in continuous mode – 2 hours in intermittent mode
7 multicoloured lights
Diffusion coverage up to 300 sq. ft
Dimensions: diameter 6.9 x height 4.1 inches
The Curaçao mist diffuser brings us to the Tropical Island Paradise. This bright, zen, and elegant turquoise blue is reminiscent of seaside landscapes. Curaçao is made with cracked ceramic and bamboo. When the diffuser is switched on, light and silent mist emanate from the base.
1. Keep the unit upright. To remove the cover, lift straight up.
2. Plug the connector end of the power adapter into the DC-jack input under the base of the diffuser.
3. Add 300mL of tap water using a measuring cup (not included in the package). Do not use hot water, and fill only to the maximum fill line. Do not add water to the unit while switched on.
4. Add 5 to 10 drops of diffusion essential oils to the top of the tank.
5. Place the cover onto the base of the unit. The cover must be in place to operate the diffuser. Connect the diffuser to a power outlet before use. 
Please read the manual carefully and keep it in a safe place.
MAINTENANCE
After using the unit 5-6 times, or after 3-5 days, clean as follows:
1. Unplug the unit from its power outlet supply and remove the cover.
2. Pour out any water remaining in the tank. Do not pour out water from the air outlet side.
3. Using a soft cloth and a mild soap in warm water, gently wipe down the unit. Dry with a clean cloth.
4. To prevent water from entering the air outlet, pour off any excess by tilting the unit to the left, not to the right.
5. Do not use detergents containing acids or enzymes, as they may damage the unit and create toxic fumes.
Important: Use mild soap only.
CAUTIONS
In case of abnormal situations such as smoke, particular smells, or sounds, any further use may result in an accident such as fire or electric shock. You should unplug the adapter immediately.
Never wrap the diffuser with cloth or paper as it could disrupt the proper dissipation of heat, causing a fire.
Never attempt to disassemble or repair the product.
Please keep the product out of reach of children to avoid injury or electric shock.
Low water protection: unit will automatically turn off if the water is below the minimum level in the tank.  This prevents the unit from being damaged.
Thermal protection: unit will automatically turn off in case of overheating. This prevents the cover from warping due to high temperatures.
Corrosive oils such as citronella or cinnamon may cause damage to the reservoir. This kind of damages caused by the improper use of this device is not under the warranty.
If the unit is tipped or knocked over while in operation, please follow the instructions below:
1. Unplug the unit and remove the cover.
2. Pour out any water remaining in the tank.
3. Gently shake the unit to drain any water, and then place in a well-ventilated area for 24 hours.
Couldn't load pickup availability