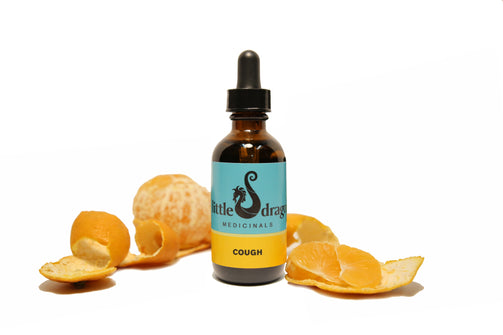 Little Dragon Cough
Little Dragon Cough
Regular price

$29.99

Sale price

$19.99
Little Dragon Cough
When you feel a cough coming on, get ahead of it with this super potent medley of herbs.
Cough is a formulation to help sooth the lungs when there are symptoms of cough. Not only does it sooth the throat and lungs it also expands the lung and brings lung energy down which is the natural, healthy direction of lung energy. Upsurging lung energy is what creates the symptom of cough.
Elder Flower
Elder Flower restores the lungs, promotes sweating, dispels wind heat and reduces fever for the onset of cold and flu symptoms. Promotes expectoration of phlegm, resolves damp phlegm and relieves wheezing.
Platycodon (Jie Geng)
Stops coughing and calms wheezing. The herb is moistening and is especially helpful for dry cough.
Tangerine Peel (Chen Pi)
Tangerine Peel dries damp phlegm. It is an important herb for tight chest and cough with copious amounts of sticky sputum.
White Mulberry Leaf (Sang ye)
Clears wind and heat from the lungs, with fever, headache, sore throat and coughing. Also for lung dryness with cough and dry mouth. Extremely effective for lung heat with thick yellow sputum.
Pinellia Rhizome (Ban Xia)
Pinellia Rhizome dries dampness and causes rebellious energy to descend. Most effective with conditions of cold phlegm in the lungs and cough with copious sputum.
Trichosanthes Seeds (Gua Lou Zi Ren)
Clears and transforms phlegm heat for phlegm heat cough. Trichosanthes Seed cools and moistens, and is especially useful for cough with chest pain and phlegm that is difficult to expectorate. Effectively expands the chest for stifling sensation in the chest.
Fritillaria Bulb (Zhi Bei Mu)
For lung heat patterns with productive cough, Fritillaria Bulb clears and transforms phlegm heat.
Schisandra Fruit (Wu Wei Zhi)
Contains the leakage of Lung energy and stops coughing. Schisandra Fruit enriches the kidneys below and inhibits the leakage of lung energy above. It's an important and effective herb for chronic cough.
Apricot Kernel (Ku XingRen)
Stops coughing and calms wheezing. The herb is moistening and is especially helpful for dry cough.
Scutellaria (Huang Qin)
Scutellaria clears heat and fire from the chest. Very effective at treating fever, cough, thirst and thick yellow sputum.
NHP: This tincture comes from thousands of years of experience, and has been tested and used in our Chinese Medicine Clinic for many years – with outstanding results. It's currently waiting to receive it's Natural Health Product Number from Health Canada. If you would like to order this product please contact us directly!
Directions: Take 3 droppers full , 3-5 times per day and also when symptoms of cough appear.
Shelf Life: 5 Years
Couldn't load pickup availability