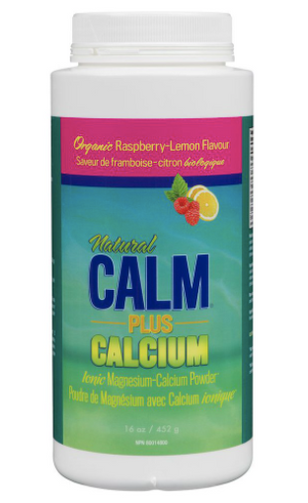 Natural Calm Magnesium Plus Calcium
Natural Calm Magnesium Plus Calcium
Regular price

Sale price

$29.99
Natural Calm Magnesium Plus Calcium
The better magnesium, with added nutrients for bone health. 
REDUCES SYMPTOMS OF STRESS 
IMPROVES SLEEP
RELIEVES PAIN
PROMOTES HEART HEALTH
RESTORES MINERAL BALANCE
BUILDS STRONG BONES
Natural Calm is the better-tasting, better-absorbing, best-loved magnesium drink. The proprietary magnesium citrate formula is fast-acting, to relieve stress, improve sleep, reduce pain, promote heart health, and more. Backed by thousands of five-star reviews and testimonials, Natural Calm has been enjoyed and trusted for 38 years.
Natural Calm Magnesium Plus Calcium is one of the only supplements formulated with an optimal balance of magnesium and calcium, plus other select bone-building nutrients.
If you already supplement calcium or incorporate calcium-rich foods into your diet, try our original Natural Calm Magnesium. Too much calcium can cause symptoms of magnesium deficiency.
Directions for Use: Pour about ½ cup of very hot water into a cup or glass.  Add Natural Calm powder, let fizz, stir, and enjoy.
Hot water speeds up the process whereby Natural Calm converts from a powder to a highly absorbable, ionic magnesium drink.
Optionally, you may add Natural Calm to cool or cold water, or even to juice. Simply stir in and wait about 15 minutes, or until the mixture is completely clear – a sign that the magnesium is fully dissolved.
Available in: Plain (Original) and Raspberry-Lemon flavour, and in 8oz (226g) and 16oz (454g) sizes.
Ingredients:  magnesium citrate, magnesium ascorbate, calcium gluconate, potassium citrate, ascorbic acid, vitamin D3 (from lanolin), boron citrate.
Non-medicinal ingredients:  citric acid.  Flavours contain organic stevia.
Recommended Dose:  Mix 2 teaspoons in a glass of very hot water
Nutrient Value, per 2 teaspoons:  magnesium 300mg, vitamin C 250mg, calcium 200mg, potassium 99mg, boron 250mcg, vitamin D3 100 IU's
Known Adverse Reactions: Some people experience a laxative effect, which is a natural side-effect of taking too much magnesium at any one time. If this should occur, simply reduce the amount of product you take at one time and increase the frequency, for example by taking Natural Calm twice daily. Note that comfortably loose stools are an indication that you are taking the right amount.
Couldn't load pickup availability