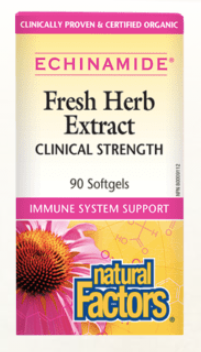 Natural Factors ECHINAMIDE® Fresh Herb Extract Clinical Strength
Natural Factors ECHINAMIDE® Fresh Herb Extract Clinical Strength
Regular price

Sale price

$20.99
ECHINAMIDE® Fresh Herb Extract Clinical Strength
Immune booster, inhibiting viruses, bacteria, and candida yeast

Used at the first sign of a cold or flu

Proven effective to reduce duration and severity of upper respiratory tract infections

Decreases severity of cold and flu symptoms

Offers year-round immune support
Natural Factors ECHINAMIDE® Clinical Strength Fresh Herb Extract harnesses the power of nature to help you fight the common cold. The only phytomedical with standardized levels of Echinacea purpurea's three key active compounds, ECHINAMIDE is clinically proven to reduce the duration and severity of infections, so you get better faster.
Advanced Info
ECHINAMIDE is the only echinacea extract clinically proven to increase immune response. When taken at the first sign of symptoms, Natural Factors ECHINAMIDE Clinical Strength Fresh Herb Extract can help stop a cold from developing, ease symptoms, and accelerate healing, and taken daily, it provides preventative immune support.
Backed by more than a decade of research, ECHINAMIDE has been clinically proven as an effective treatment for upper respiratory tract infections in multiple randomized, double-blind, placebo-controlled trials. ECHINAMIDE uses a patented extraction method to guarantee consistent levels of the three known plant actives in Echinacea purpurea: alkylamides, cichoric acid, and polysaccharides. These compounds are the foundation of ECHINAMIDE's powerful ability to reduce the length and severity of viral infections, and the whole herb base ensures no minor actives are missing from the formula.
While many supplements use only the purple flowers of this herb, ECHINAMIDE uses both flowers and the roots. Natural Factors' echinacea is grown to the highest organic standards on our own certified organic farm in British Columbia and harvested when active ingredients are at their peak concentration. Each batch is rigorously tested to ensure purity and potency.
Couldn't load pickup availability