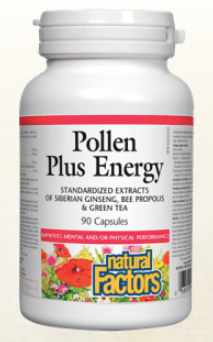 Natural Factors Pollen Plus Energy
Natural Factors Pollen Plus Energy
Regular price

Sale price

$15.99
Pollen Plus Energy
90 Capsules (SKU 3140)

Boosts energy levels
Promotes well-being
Source of naturally-occurring vitamins, minerals and enzymes  
Overview
Natural Factors Pollen Plus Energy is a natural source of antioxidants, amino acids, vitamins, minerals, coenzymes, and fatty acids that improves mental and physical performance. It combines bee pollen with standardized extracts of bee propolis, Siberian ginseng, and green tea to enhance immunity and increase strength during times of recovery.
Medicinal Ingredients
Each capsule contains:


Bee Pollen

300 mg

Bee Propolis 2:1 Extract (bee hive)

150 mg

Siberian Ginseng 15:1 Extract


(Eleutherococcus senticosus)

 

(root)

150 mg

(Providing 2250 mg crude herb. Standardized to 0.8% eleutherosides.)
Green Tea Extract

 

(Camellia sinensis)

 

(leaf)

75 mg

(Contains 75% catechins, 45% EGCg and 6% caffeine)


Non-Medicinal Ingredients
Gelatin capsule (gelatin, purified water), rice starch, silica, vegetable grade magnesium stearate (lubricant).
Suggested Use
Source of antioxidants for the maintenance of good health. Used in herbal medicine to help improve mental and/or physical performance after periods of mental/physical exertion, and to help relieve general debility and/or to help during convalescence.
Advanced Info
Natural Factors Pollen Plus Energy provides the best of the bee in a combination formula of bee pollen plus standardized extracts of Siberian ginseng, bee propolis, and green tea. Each active ingredient is highly regarded, but the synergistic effect of these classic nutrients and herbs provides valuable nutritional insurance for coping with the demands and stress of daily life.
Each capsule delivers 300 mg of bee pollen and 150 mg of propolis for nutrient dense immune support. Pollen contains all amino acids, over a dozen vitamins, 28 minerals, 11 enzymes, coenzymes, and 14 fatty acids. Although it contains 25% protein, it is considered a low-calorie ingredient with only 45 calories per tablespoon. Propolis is packed with anti-inflammatory flavonoids and has antibacterial properties that make it a powerful healing agent. Siberian ginseng is traditionally used in herbal medicine to boost mental and physical energy after periods of exertion, while green tea is loaded with key antioxidants for added immune support and the maintenance of good health.
Pollen Plus Energy is a nutrient dense formula for energy, stamina, and immune support. Together, its ingredients help relieve general weakness and increase strength during periods of recovery.
Couldn't load pickup availability