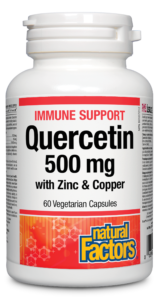 Natural Factors Quercetin
Natural Factors Quercetin
Regular price

Sale price

$24.99
Natural Factors Quercetin
500 mg · with Zinc & Copper
60 Vegetarian Capsules (SKU 1390)
Supports immune health 
Maintains healthy bones, hair, nails, and skin
Helps in energy metabolism
Quercetin is an antioxidant bioflavonoid and free radical scavenger
Non-GMO and suitable for vegetarians and vegans 
Natural Factors Quercetin 500 mg with Zinc & Copper is a vegan-friendly, non-GMO combination of specially selected nutrients to support immune health. Quercetin is a plant-derived bioflavonoid antioxidant. Quercetin helps zinc enter cells to further support immune function, while copper helps maintain the optimal zinc/copper ratio needed for all-round health.
Medicinal Ingredients
| | |
| --- | --- |
| Each vegetarian capsule contains: | |
| Quercetin (bioflavonoids) | 500 mg |
| Zinc (citrate, dihydrate) | 15 mg |
| Copper (citrate) | 1000 mcg |
Non-Medicinal Ingredients
Vegetarian capsule (carbohydrate gum [cellulose], purified water), microcrystalline cellulose, vegetable grade magnesium stearate (lubricant), stearic acid, silica
Suggested Use
A factor in the maintenance of good health. 
Source of antioxidants. 
Helps to support immune function. 
Helps in energy metabolism and tissue formation. 
Helps maintain healthy skin and connective tissue formation. 
Helps to produce and repair connective tissue. 
Helps to maintain healthy bones, hair, nails, and skin. 
Helps to maintain the body's ability to metabolize nutrients. 
Helps to form red blood cells. 
Helps to maintain normal iron transport in the body. 
Helps to prevent zinc deficiency. 
Source of minerals to support biological functions, which play a key role in the maintenance of good health.
Natural Factors Quercetin 500 mg with Zinc & Copper is a synergistic formula that combines the antioxidant benefits of the bioflavonoid quercetin with essential minerals for enhanced support of the immune system. 
Quercetin is a potent antioxidant bioflavonoid found in small amounts in many plant foods, including herbs, fruits, and vegetables. Supplemental quercetin helps support cellular health throughout the body by counteracting unstable free radicals, and may provide seasonal allergy relief. Quercetin also helps zinc enter cells where the mineral supports the formation of antioxidant enzymes, such as superoxide dismutaste, to fight free radicals.
Zinc and copper are essential minerals needed by the body to support hundreds of enzyme reactions involved in the synthesis of proteins and other aspects of general health. Zinc is particularly important for healthy immune function as it is needed for both innate and adaptive immunity. As copper and zinc are antagonistic, supplementing these minerals together helps prevent imbalance.
Natural Factors Quercetin 500 mg with Zinc & Copper is an effective source of antioxidants and is specially developed to maintain immune health. It contains no preservatives, sweeteners, gluten, or GMOs, and is suitable for vegetarians and vegans. Quercetin is a great choice for anyone who wants to take a plant-based approach to self-protection and is a key addition to any health defence toolkit. 
Couldn't load pickup availability