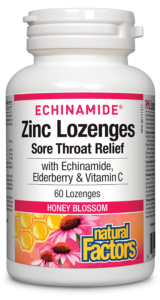 Natural Factors Zinc Lozenges
Natural Factors Zinc Lozenges
Regular price

Sale price

$10.99
Natural Factors Zinc Lozenges with Echinamide, Elderberry & Vitamin C, Honey Blossom
Helps maintain immune function
Relieves cold and flu symptoms, such as cough, sore throat, and congestion, as used in herbal medicine
Helps relieve fever and promote sweating, as used in herbal medicine
Contains antioxidants that help protect against free radicals
Provides a source of zinc and vitamin C, factors in the maintenance of good health
Supports energy metabolism and tissue formation
Natural Factors Zinc Lozenges combine the essential nutrients zinc and vitamin C, along with a full-spectrum organic echinacea extract and black elderberry extract, to help maintain immune function and soothe irritated upper airway membranes. The delicious, naturally flavoured honey blossom and cherry lozenges dissolve in the mouth for convenient relief of cold and flu symptoms, such as cough, sore throat, and mucous congestion.
Medicinal Ingredients
Each lozenge contains:


Black elderberry extract 4:1(Sambucus nigra

 

subsp.

 

nigra) (fruit)
125 mg
Echinacea powder (Echinacea purpurea) (herb top and root)
30 mg
Vitamin C (sodium ascorbate)
25 mg
Zinc (gluconate)
10 mg
Non-Medicinal Ingredients
Cane sugar, natural flavours, citric acid, stearic acid, vegetable grade magnesium stearate (lubricant), monk fruit extract.
Suggested Use
Helps support the immune system. Black elderberry is traditionally used in herbal medicine to help relieve symptoms of colds and flus (such as coughs, sore throat, and mucus buildup (catarrh) of the upper respiratory tract). Antioxidant for good health.
Advanced Info
Natural Factors Zinc Lozenges contain a unique complex of zinc, vitamin C, organic echinacea, and black elderberry to help support the immune system and help relieve cold and flu symptoms, such as sore throat.
Each lozenge provides 10 mg of zinc, an essential trace mineral with an important role in immune system function, combined with 25 mg of the antioxidant vitamin C for the maintenance of good health. Echinacea is an immune-supportive herb that is well documented in both traditional medicine and within scientific literature. ECHINAMIDE uses a patented extraction process to guarantee the bioavailability of Echinacea purpurea's three immune-active compounds: alkylamides, cichoric acid, and polysaccharides. When taken at the first sign of infection, ECHINAMIDE may stop a cold from developing and may ease symptoms and accelerate recovery. Black elderberry provides an additional source of antioxidants and is used in herbal medicine to help relieve cold and flu symptoms, including mucous buildup, congestion, fever, and sore throat.
Zinc lozenges provide quick sublingual absorption of these nutrients that are well-tolerated by the body, making them a convenient format for anyone who has been set back with a cold or flu, or is seeking antioxidant support. They come in delicious honey blossom and cherry flavours, are naturally sweetened, and contain no artificial colours or preservatives.
Couldn't load pickup availability