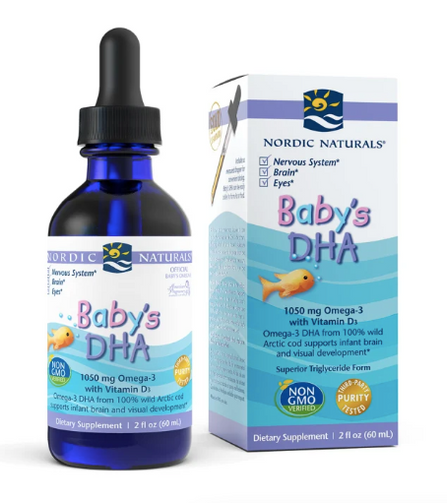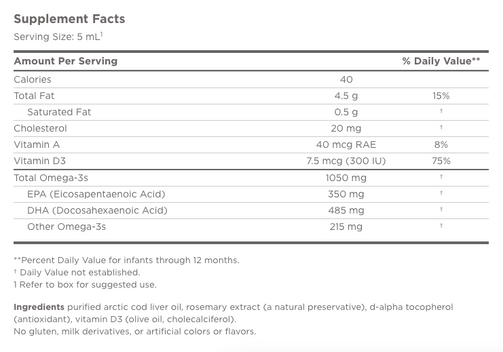 Nordic Naturals Baby's DHA
Nordic Naturals Baby's DHA
Regular price

$22.99

Sale price

$15.99
Nordic Naturals Baby's DHA
Supports your baby's brain and eye development in an easy-to-use omega-3 liquid*
Baby's DHA is a trusted source of omega-3 DHA—an essential fat your baby needs for a healthy brain, eye, and nervous system development.*
1050 mg total omega-3s

Recommended for babies 5-35 lbs

Surpasses the strictest international standards for purity and freshness

Made from 100% wild Arctic cod, with 300 IU added vitamin D3, which many pediatricians recommend

Clearly marked dropper for easy measuring

The Official Baby's Omega-3 of the American Pregnancy Association
Omega-3 DHA is especially important during the first years of life when your baby's brain, eyes, and nervous system are rapidly developing.* Nordic Naturals Baby's DHA gives you a safe, convenient way to make sure your little one is getting enough of this structural building block. Made exclusively from our Arctic Cod Liver Oil, our nourishing, liquid Baby's DHA also contains 300 IU added vitamin D3, which the American Academy of Pediatrics recommends. Use the included measured dropper for easy addition to the bottle or food.
---
THE HIGHEST STANDARDS
All Nordic Naturals' fish oil products are offered in the triglyceride molecular form—the form naturally found in fish, and the form your body most easily absorbs.* Everything we make is non-GMO and third-party tested, surpassing the strictest international standards for purity and freshness. Certificates of Analysis are available for any product. Nordic Naturals fish oils are Friend of the Sea (FOS) certified and sustainably made in a zero-waste facility powered by biofuel.
Suggested Use
Couldn't load pickup availability