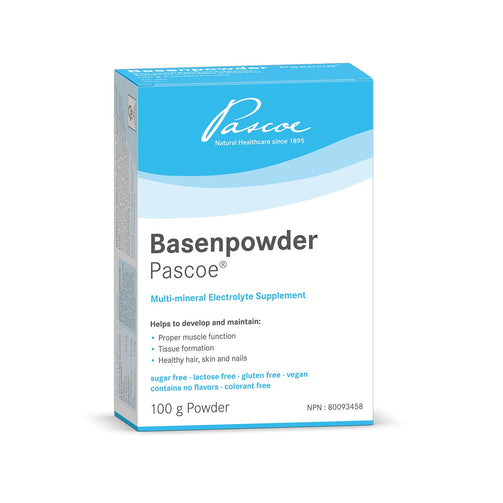 Pascoe Basenpowder
Pascoe Basenpowder
Regular price

Sale price

$0.99
Pascoe Basenpowder 
Multi-mineral Electrolyte Supplement
• Helps to maintain proper muscle function 
• Helps in tissue formation 
• Healthy hair, skin and nails
Basenpowder Pascoe - Electrolyte and Multi Mineral Supplements
Basenpowder Pascoe is a multi-mineral electrolyte powder supplement. The electrolyte powder and mineral supplement replenishes the body to support vital physical processes. Basenpowder delivers essential minerals and electrolytes to: 
Help maintain proper muscle function

Help in tissue formation and bone health

Support healthy hair, skin, and nails using zinc

Support immune function
The Benefits of Calcium, Magnesium, Zinc
The powder is a multi-mineral supplement that contains calcium, magnesium, potassium, sodium, and zinc. These are the most essential vitamins and minerals the body needs. Calcium and other minerals are used in muscle contraction and nerve impulses. They control blood pressure and support healthy bones. Electrolytes are needed for our organs and cells to function. The mineral supplement balances acidity and helps repair damaged tissue. Essential electrolytes support a healthy immune system.
Who Should Use an Electrolyte and Minerals Supplement?
Electrolytes and trace minerals are always rising and falling due to hydration and changes in bodily fluid. Essential minerals are not made by the body. They must come from a well-balanced all-natural diet. However, adequate calcium, magnesium, and potassium are harder to obtain in the right amount. This is why Basenpowder's easily absorbable formula is a top pick that can be used by anyone. Supplementation benefits people with mineral deficiencies. This might be due to age or illness. Mineral deficiency may also occur as a result of some diseases, such as osteoporosis. Minerals may help to relieve symptoms of dehydration. Athletes can consume the electrolyte supplement as a sports drink for hydration. It provides electrolyte replacement and refuels energy levels. The electrolyte drink delivers rapid hydration, prevents muscle cramps, and strengthens bones. 
Basenpowder is suitable for adults and children over 9 years of age. Unlike tablets, coated caplets, softgels, or capsules, Basenpowder is:  
Lactose, gluten, and sugar-free

Contains no artificial ingredients 

or 

artificial sweeteners

Vegan and keto-friendly

Caffeine-free
How to Use Basenpowder - an Electrolyte Powder Sugar Free? 
Basenpowder is easy to add to your daily routine. The dietary supplement replenishes the body quickly due to its fast absorption. Mix one scoop of the powder or one single-serve stickpacks of Basenpowder with 8 ounces of water. The electrolyte mix can be added to your favourite beverage, smoothie, or shake. Add fruit or herbs to the unflavored food supplement. Enjoy a great tasting lemon flavour or lemon-lime electrolyte water!
Be sure to always read and follow the supplement label if you are a pregnant woman or breast-feeding.
Medicinal Ingredients
1 packet (4 G) or 1 teaspoon of powder (4 G)Contains: 
Calcium 613 Mg
Magnesium 232 Mg
Zinc 1.5 Mg
Non-medicinal Ingredients
Potassium bicarbonate, Sodium bicarbonate, Sodium phosphate dibasic dihydrate.
Recommended Dosage
Adults and children 9 + years 1 packet of powder (4 g) or 1 teaspoon of powder (4 g) once a day
Packs should be stirred in a glass of water. Take with food, a few hours before or after taking other medications or natural health products.
Indication
Multi-mineral supplement, an electrolyte for the maintenance of good health. Helps to maintain immune function and heart muscle function. Helps in the development and maintenance of bones and teeth and maintains proper muscle function and tissue formation. Maintains healthy hair, skin and nails.
Contraindications
Store away from children. Please keep container closed and store in a dry place.
Do not use for children under 4 years of age. Do not exceed the recommended daily dose. This product should not be used as a substitute for a balanced and varied diet, and a healthy lifestyle.
Couldn't load pickup availability