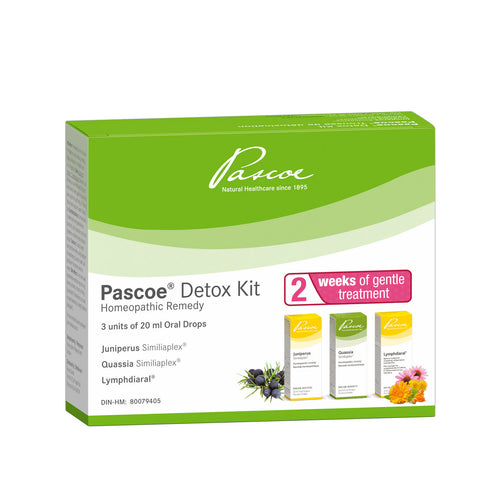 Pascoe Detox Kit
Pascoe Detox Kit
Regular price

Sale price

$42.99
Pascoe Detox Kit
What is the Pascoe Detox kit 20 mL?
It is a homeopathic kit for the relief of sinus congestion, indigestion, hives, bloating, irritability, fatigue, headaches and constipation.
Pascoe's 2-week Detox Kit: Your Quick Solution to Improved Well-Being 
Pascoe's new 2-week Detox Kit is a homeopathic kit for the relief of indigestion, hives, bloating, irritability, fatigue, headaches, constipation and sinus congestion. The Kit includes Lymphdiaral, Quassia Similiaplex, Juniperus Similiaplex, all in 20 mL bottles, all which are mainly made from plant-based naturally sourced medicinal ingredients that aid in the detoxification process. 
First Time Detoxers
The same gentle and effective formula used in our original Detox Kit is now available in a 2-week kit which is ideal for anyone who wants to try a detox for the first time. Perhaps you are skeptical about detoxing and don't want to commit to a 5-week treatment right away, or you don't want to spend too much money because you're not sure how it will work for you. The new 2-week Pascoe Detox Kit allows you to try detoxing without a major time or financial commitment.
Quick Wins With a 2-Week Detox Kit
The new 2-week Detox Kit is perfect for anyone looking to improve their overall health and feel better fast! Do you have a special occasion coming up soon that you want to look and feel your best at - maybe a wedding, or a trip down south? The new 2-week Detox Kit works fast to improve your overall health and bring you back to a more balanced state in a short amount of time.
Detoxing as Part of Your Lifestyle
Detoxing twice a year is recommended as part of a regular detoxing protocol.
Easy to Use
Put 30 drops of each remedy in a 1-1.5 litre bottle of water and sip slowly throughout the day. Alternatively, to sip water throughout the day, you may take10 drops of each remedy in a glass of water, three times a day.
For Best Results
For best detoxification effects, you should reduce your intake of heavily processed foods, tobacco, alcohol, and other harmful substances.
You should also follow this basic advice during your detox program: 
Eat more fruit and vegetables
Drink more water and less coffee and soft drinks
Exercise regularly, even a walk in the park or a short bicycle ride
Avoid stress as much as possible
Keep a healthy acid-base balance by taking Basentabs pH-balance Pascoe (an antacid supplement from Pascoe. Learn more here).
Each kit contains:
Juniperus Similiaplex® 20ml drops 
Quassia Similiaplex® 20ml drops
Lymphdiaral® 20ml drops
How to use Pascoe Detox Kit®?
The Pascoe Detox Kit can be used as part of an annual detox program, or more frequently as directed by a healthcare practitioner.
General information about body detoxification:
Supporting the lymphatic system, kidney and liver are crucial for proper detoxification. Drinking sufficient water, increasing intake of vitamin-rich organic foods and exercising can all play an important role in supporting these organs and improving the body's overall health.
Dosage and administration:
Adults and children ≥ 12 years: Based on your lifestyle, you can either
take 30 drops of each remedy mixed together in one liter of water,
sipped through the day.
or
Take 10 drops of each product in water 3 times a day.
Contraindications/Cautions:
Contraindicated in patients who are hypersensitive to the daisy family, oil of turpentine or any of the ingredients contained in each individual
product. Consult a healthcare practitioner before using if pregnant or breastfeeding. Consult a healthcare practitioner if symptoms persist or worsen.
Side effects/Interactions:
In very rare cases hypersensitive reactions may occur, e.g. eczema, erythema, urticaria or itching (Lymphdiaral drops). Petroselinum can
cause increased sensitivity to sunlight (Juniperus similiaplex).
Couldn't load pickup availability