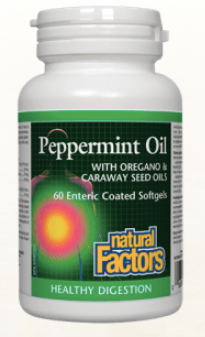 Natural Factors Peppermint Oil with Oregano & Caraway Seed Oils
Natural Factors Peppermint Oil with Oregano & Caraway Seed Oils
Regular price

Sale price

$19.99
Peppermint Oil with Oregano & Caraway Seed Oils
60 Enteric Coated Softgels (SKU 3516)
Natural Factors Peppermint Oil supports healthy digestion naturally. Each ingredient has effective antifungal properties while the enteric-coated softgels deliver the oil directly to the lower digestive tract where it is most soothing for symptoms of irritable bowel syndrome (IBS) and digestive upsets.
Relaxes intestinal muscles
Promotes the elimination of excess gas
Is 100 times more effective than caprylic acid as a natural antifungal agent
Helps to speed up the elimination of systemic candida yeast
Inhibits the hypercontractility of intestinal smooth muscle, relieving the irritable bowel, esophageal spasm, and intestinal colic
Advanced Info
It is estimated that approximately 15% of the population has complaints of irritable bowel syndrome (IBS), making IBS one of the most common gastrointestinal disorders. Natural Factors Peppermint Oil combines peppermint, oregano, and caraway oils for a natural answer to serious digestive upsets.
Peppermint and caraway are both traditionally used in herbal medicine to aid digestion and help relieve uncomfortable symptoms of gas. Peppermint and oregano oils have natural antifungal properties that are effective against the growth of Candida albicans – a common yeast that can infect and disrupt the delicate balance of the digestive tract. The greatest benefits are achieved when taken in combination with a high-quality probiotic to restore the health of intestinal flora, as well as a multivitamin that includes vitamins C and E to replenish nutrient deficits caused by candida yeast.
Each easy-to-swallow softgel is standardized to contain optimal concentrations of key compounds and has an enteric coating to help it pass through the stomach intact and deliver the oil directly to the lower digestive tract. This helps prevent stomach irritation and heartburn, and maximize digestive health where it is needed most.
Couldn't load pickup availability