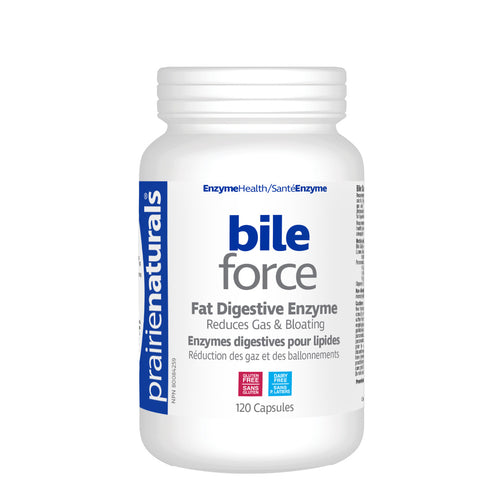 Prairie Naturals Bile-Force
Prairie Naturals Bile-Force
Regular price

Sale price

$22.99
Prairie Naturals Bile-Force
Supports digestion, even without a gallbladder
• Supports healthy liver and gallbladder function
• Helps the cleansing of toxins from the GI tract
• Relieves abdominal bloating, gas and fullness
• Helps to maintain healthy cholesterol levels
• Supports healthy digestion of fats
• Aids in feeling satisfied after eating
• Promotes regular bowel movements
• Non-GMO, gluten-free, dairy-free
Solving fat digestion challenges with Bile-Force!
Have you noticed a heavy, full feeling after eating high-fat foods? Often, this full feeling occurs when starting a high-fat (ketogenic) diet or simply eating too many fatty foods at a meal. Many people notice bloating, gas, nausea and even pain or tightness on the right side of the abdomen, sometimes lasting longer than 24 hours. Digesting fats can also be a problem following gallbladder surgery. Bile and pancreatic enzyme production may be inadequate for anyone living without a gallbladder or for those switching to a high-fat diet. High-fat diets (around 50-70% of calories) have become popular, yet our digestive secretions from the liver and pancreases have to catch up. It often takes weeks for production to naturally increase and, sometimes, our bodies are never able to produce sufficient bile and lipase. With age, bile and pancreatic enzyme production can become chronically sluggish. Eating a diet of mostly cooked foods for decades places a metabolic burden on the body's ability to manufacture enzymes and, over time, production decreases.
Who needs Bile Force?
• People with poor diets: high-caloric intake from carbs, sugars (fructose), saturated fats & alcohol
• Anyone with food allergies and intolerances, celiac disease with gallstones, and/or inflammation of gallbladder and pancreas* (* European journal of clinical investigation.)
• Individuals who are obese and/or have blood sugar disorders
• Persons now living without a gallbladder, or prone to gallstones
• Those diagnosed with fatty liver
• Individuals shifting to a ketogenic or high-fat lifestyle
Recommended Use or Purpose:
Digestive aid to help decrease bloating after high caloric, high fat meals. Helps to relieve constipation and provide bile salts for bloating, gas and digestive stress. Facilitates the absorption of fat-soluble vitamins and phytonutrients, as well as omega fatty acids. Provides 2 sources of the enzyme Lipase for digestion of fats.

Recommended Dose (Adults):
Take 2 capsules 1-2 times daily, or as directed by a health care practitioner. Take with 1 cup (250 ml) of water before a meal/food. Maintain adequate fluid intake. Take a few hours before or after taking medications.
 
Medicinal Ingredients:
Each capsule contains:
Bile Salts (Bos taurus bile) Ox Bile Extract (45% cholic acids) 50 mg
Lipase (Aspergillus niger) (triacylglycerol lipase) 78 mg
          800 FCC LU
Pancreatic Enzymes (Bos taurus pancreas) Bovine (8x) 50 mg
          10,000 USP units Amylase
          1,600 USP units Lipase
          10,000 USP units Protease
Slippery Elm (stem bark inner) (Ulmus rubra) 80 mg

Non-Medicinal Ingredients:
Gelatin (encapsulating agent), magnesium stearate, microcrystalline cellulose.

Cautions and Warnings:
Take with water and maintain adequate fluid intake. Take a few hours before or after taking other medications. If symptoms persist or worsen, consult a health care practitioner. Do not use if you are pregnant or breastfeeding, if you suffer from gastric reflux, or if you have gastrointestinal lesions/ulcers, if you have esophageal obstruction, a liver disorder, gastrointestinal tract or gallbladder disorders, gallstones, a bile duct obstruction and/or bowel obstruction. If you are sensitive to pancreatic enzymes, do not use this product. If you have diabetes, pacreatitis, pancreatic exocrine insufficiency or cystic fibrosis, consult a health care practitioner prior to use. Hypersensitivity/allergy has been known to occur; in which case, discontinue use. Nausea, vomiting, abdominal pain/epigastric pain and/or heartburn have been known to occur, in which case discontinue use (and consult a health care practitioner). Use the smallest effective dose which controls symptoms. Consult a health care practitioner for prolonged use or use beyond four weeks. Store in a cool dry place. Do not use if seal is broken. Keep out of reach of children.
Couldn't load pickup availability