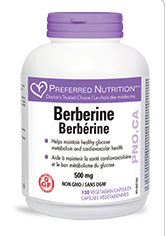 Preferred Nutrition Berberine
Preferred Nutrition Berberine
Regular price

Sale price

$39.99
Preferred Nutrition Berberine
Helps maintain healthy glucose metabloism and cardiovascular health
BERBERINE FOR GLUCOSE METABOLISM AND CARDIOVASCULAR HEALTH

A placebo-controlled study provided the first evidence that berberine is a valuable supplement for diabetes and cardiovascular health. Berberine was shown to lower blood glucose, HbA1c (the best measure of long term blood sugar and diabetes control), triglycerides, total cholesterol and LDL cholesterol significantly better than a placebo in people with type 2 diabetes.

When type 2 diabetics were given either berberine or the diabetes drug metformin, the berberine was equally effective for blood glucose, HbA1c and insulin. Berberine had an advantage over the drug, though, because it also lowered cholesterol and triglycerides. The study also found that adding the same dose of berberine to the treatment of people whose type 2 diabetes was not being adequately managed by drugs significantly lowered blood glucose, HbA1c, triglycerides, total
cholesterol and the harmful LDL cholesterol.

A third study compared berberine to two drugs: metformin and rosiglitazone. Berberine's effectiveness was similar to the drugs. It significantly lowered fasting blood glucose levels, insulin, triglycerides and HbA1c in type 2 diabetics. In vitro, berberine increased the number and responsiveness of insulin receptor cells.

A meta-analysis of 27 controlled studies found that berberine was as effective as drugs for diabetes, equal to drugs for lowering total and LDL cholesterol and superior to drugs for lowering triglycerides and raising the heart healthy HDL cholesterol. It also found that berberine is superior to placebo for high blood pressure.

Berberine has also been shown to be beneficial in the treatment of arrhythmias and heart failure. Adding berberine to conventional treatment of congestive heart failure has been shown to significantly improve the results and significantly lower the number of deaths.
Each Capsule Contains:
Medicinal Ingredients:
Berberine (hydrocholride) (Berberis vulgaris) (root bark) . . . .  . . . . . . . . . . . . . . . 500 mg

Non-medicinal Ingredients: Vegetarian capsule (cellulose, purified water), microcrystalline cellulose, vegetable grade magnesium stearate (lubricant), silica, stearic acid.
Recommended adult dosage: 1 capsule 2 times daily with meals or as directed by a health care practitioner. Consult a health care practitioner for use beyond 3 months.
Couldn't load pickup availability